The game of the October 1999 is Silver Jiken. I wanted to write in couple sentences why, but I failed at that miserably and I'd better post a non-structured review of it in order not to overburden this post.
1.
Akuryou Gakuen Reiko 2 ~Himejima Tennyo Densetsu~
悪霊学園レイコ・2 ~比目島天女伝説~ [991001] Trush
Reiko Ashura is a girl born from psychic parents. For a long time Reiko has been using those powers to solve supernatural cases. The assignment given to Reiko this time is to infiltrate a private high school in a fishing village where there has been a streak of student disappearances denied by the school administration, but confirmed by the parents. This high school has a depressing atmosphere since it was build to isolate delinquents. Secret group meetings are held there at night...


Poor Reiko, this is actually the third game devoted to the same psychic girl and her ambiguous erotic adventures. Creators don't even bother defend the novelty of their product just claiming that here there's a longer story and further deepening of inherited mystery. But really ... trying to sell pretty much the same story for the third time...
2.
Days Innocent
[991001] Inspire
Mutsuki and Kaede are girl cousins who were very close at childhood friends but have not met for almost 10 years because Kaede illness and transfer. Now Kaede joins other girls in the study and her heart flies to tender their wounds.
Somehow I feel that this game should stay in the list despite quite a big number of H yuri scenes. It's a game of special atmosphere. There is no main character and the story is told from 3rd person perspective. Well, there isn't a story, but rather a collection of event-stories. Map is show and time goes in real time and from time to time character icons show up and there's an even upon clicking. There are five girls. The main line is how weak and lonely Kaede joins the study with other girls and gets supportive with their problems. It's more of a nakige than a yuri work and can be immersive. One playthrough is about 4 hours.
3.
Dokidoki Slot Panic
ドキドキスロットパニック [991001] Melo
Main character is a university student who is bored with his life. One day he sees an announcement of pachinko tournament with a nice sum of money as main prize. He reads the book with winning strategies and heads to the place of tournament. There are still 3 days before the competition, but cute girls willing to complete have already gathered at the place.


It's a stripping pachinko without real story behind it. There are 5 pachinko automates to roll.
4.
Gekkou
月光 [991001] Uran
Hiroshi and Yukiko were going out at school. After graduation Hiroshi went on to university in Tokyo and found a new girlfriend. They meet again in seven years at alumni gathering can't get enough of each other. However Yukiko gets leukemia and gradually weakens day by day.
The game was quite famous in Japan as some critics put it as the nakige of the year 1999 shamelessly pushing Kanon and Kana out. So first chapter is about junior school, second chapter is about new love Izumi and third chapter about Yukiko illness. It's a love triangle and medical nakige mix. I don't appreciate nakige, but medical sickness ones are the worst in my opinion. And only this third sickness story is voiced - that's cheap. There are choices, but they are totally ignored and story just goes in linear manner and it goes to quite crazy level - you may refuse to go to the meeting place with Izumi and you may refuse to date her, but game still would associate you as lovers. Hero is just an indecisive failure. It's probably another work that people either love or hate since evaluations vary from kusoge to kamige.
5.
School Quest ~Heroine~
スクール・クエスト ~ヒロイン~ [991001] Hyperspace
Let's fall in love with three heroines at school and around the town.
School - part-time job and lots of schedule management. Raise the three parameters - money, strength, experience - and go on a date. Girls have two parameters - experience and the level they like you. Moving around town is as if came down from RPGmaker, totally ugly and by squares. There's no story besides making it with the girl, but since it's a SIM, it should stay.
6.
Taiken Kokuhaku ~Kiite Hoshii no~
体験告白 ~聞いて欲しいの~ [991001] Seal Staff
Main character is an editor of magazine "S-teen" for young girls. Originally he collected confessions and summarized them to present for readers, but eventually decided to publish interviews entirely, because girls and confessions situations are so bright and unique.
Ended up being a normal nukige very soon.
7.
Tsumi to Batsu
罪と罰 [991001] Saga Planets
A shocking sight witnessed by young elite judge Matsuoka Masayoshi ....
It was a sacred court cellar and a girl was insulted in it.
From this day his life went mad. Strange cases passed by mysterious man and sometimes even innocent girls awaiting insulting punishment.
A nukige through and through.
8.
Silver Jiken
シルバー事件 [991007]
1
2
3
4
5
1999 - the "24 Wards". A string of mysterious serial killings plagues the city. The detectives of the 24 Wards Heinous Crimes Unit have their eyes on one man: Kamui Uehara, legendary serial killer and assassin of a number of government officials 20 years prior in the now-famous "Silver Case". However, nobody knows who - or what - Kamui really is. Has he really returned? Who is this infamous serial killer?
Game is localized and has dozens of reviews.
Zoku Mikagura Shoujo Tanteidan - Kanketsuhen is the sequel that finishes the story of Mikagura Shoujo Tanteidan. The game features some action sequences in which the player has to press a directional button or an action button to pass it and advance in the game, if the player fails he will have to repeat the action sequence again.
The only new feature is mentioned in the synopsis. There quite a lot of interesting and fun cases here as well, but the impact is much smaller than that of the prequel. So if you like Taisho era atmospheric detective stories, nothing should stop you from playing it. Opening is pretty much the same as that of the prequel, just some eyes changed.
10.
Doura
瞳裸 [991008] Cross Net
Our guy got kicked out of the alchemist guild for trying to make life. Now that he has successfully made a girl, he wants to use her for revenge. To do that, he wants to get her into the emperor's harem. He needs backing from 3 people, who he will make items for. His girl is the perfect test subject for those items. Does he want love or fame?
Another weird SIM that I'm not inclined to get familiar with.
11.
Hagane no Oni ~Kidou Hohei vs Onna Ninja Gundan~
鋼の鬼 ~機動歩兵VS女忍者軍団~ [991008]
Studio Neko Punch
A monarch died in a certain country of the Far East, and the young heir "Kikuyo Chiyo" took the seat.
However, his uncle drafted a female ninja corps to assassinate Kikuyo.
The Freedom Association dispatched a special robotic unit secretly to prevent the assassination. Over 50 ninja attacked the
cemetery where assassination was decided, but Kikuyo was a decoy and a huge metal robot appeared before their sight instead. How will latest robotic unit fight against
female ninja corps that make use of numerous secret techniques?
Just wow. Clearly a bakage, but a memorable one since ninja wear swimsuits, bikini and in some cases just garterbelts. Most of choices relate to the way of fighting. But after the fight is one someone will need to interrogate the commander and noone would do it better than the hero of the battle.
12.
Niji-iro Season Sarigenaku
虹色シーズン さりげなく [991008] Peach
This is the world of sword and magic "Paiona". Three races occupy it.
There is "sword and magic school" in Sao Paolo, the central city of Paonaa. It is a prestigious school where freshmen are only accepted once in three years. At this school "Red Moon Battle" is held every three years when the red moons rise. The winners are recognized as wizards. Four girls participate in the contest to become real witches.
It's something like Sotsugyou ~Graduation~ but in fantasy world. Main hero is actually the teacher that's entrusted with teaching these four heroines. It's a very loose scenario with sudden H events and demon group appearing by the end just to be defeated instantly. The game is actually short and takes one hour to finish. Graphics is the only selling point of the game.
13.
Sekai ga Kimi ni Yume Miteru
世界が君に夢みてる [991008] Studio Trips
Main character has been recently fired. A strange rabbit ears girl appears before him and invites him to return to school days. At school he needs to use a lot of different cute talking items to make girls happier.
It's really very difficult to understand what's going on here. Lots of chaotic talks, all those talking items show up one by one. And eventually it falls into H same chaotically. System is very poor and game holds somehow only on cute character design.
14.
Silent Duel
[991008] Scramble House
Jinba high school is a prestigious school where political and business elite children study. A small passenger ship "Silent" is a place for a student party. Hero is preparing the party in the course of his part-time job. The next morning after the party a female teacher is discovered abused and killed. The crew hurried towards the ground, but other incidents happen one by one involving girls assaults. Hero is requested to help the investigation by the teachers.
You move around the boat, get testimonies and investigate. One topic of conversation takes 10 minutes and time is limited. The theme of the work is "fight to protect" and not only against the criminals but also from self. There are five heroines. Graphics is ok and there's a solid feeling from the game, but it has specific content.
15.
The Ren'ai Simulation ~Natsuiro Celebration~
THE 恋愛シュミレーション~夏色セレブレーション~ [991008] HuneX
1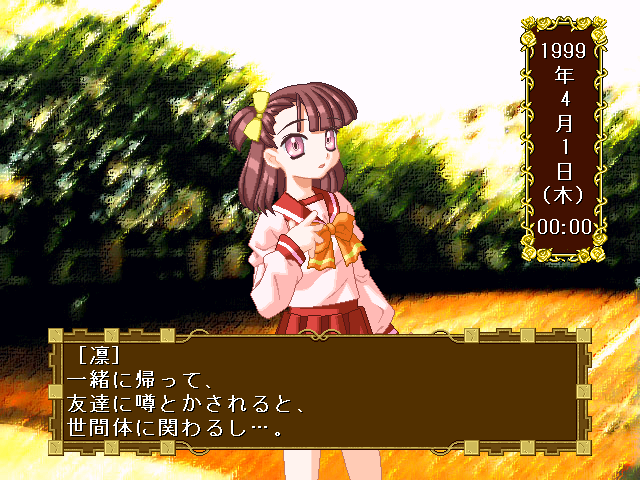 You're a high school student enyoing summer with your best friend Kimi. One day of August, she receives a call from her father, telling her to go home in 21 days. You then start enjoying those last days together...
There are 10 heroines. And you create them yourself... there are tools for it. Apart of that there are parameters and lots of actions to fill the schedule. So it's a very basic level SIM with ability to create own event situations.
16.
Zero Jikan e...
ゼロ時間へ・・・ [991008] Easy Mode
A gigantic meteorite will fall on the Earth in 3 days destroying it forever. At this time one amateur astronomer's photo of the comet tail initiated a series of full-scale riots and mayhem. How will you live three last days in such a world?
Another end of the world story. Command selection ADV, but creator tried to make it as user-friendly and speedy as possible. The is some gunpowder in some of heroines stories, but they are too short to have an impact. There are some 20 endings. Well, there is some unique atmosphere of lawless ruined Tokyo, so might be to someone's taste.
17.
Furiman Bibou Hen
振まん 美貌編 [991013] Hyperspace
Mahjong erotic game available in both battle mode and story mode where girls need to be defeated consequently. Game features screaming voices of girls.
Every story mode does not strike me as visual novel, to be hones.
18.
Genma Senki Lexion
幻魔戦記レクシオン [991014] Loze
There used to be a fight between the king and the devil.
That fight that split the sky and broke the ground, lasted 300 years.
And there was a hero who tried to reconciliate the two rulers. He got both arms torn off, but the rules were so ashamed of themselves that they made peace and sent him their daughters as wives.
Present time. Main character Akira inherited the power of that hero. On his 19th birthday that power awakened and he found himself in a bed with an angel girl and a devil girl. He's the only one who can withstand an invasion of monsters.
Game's more of a visual novel than an RPG. You need to select location and trigger some scene, sometimes some monster shows up. There are three main heroines - the new brides and the sister he lives with.
19.
Sta★Gra -Star Graduation-
スタ★グラ -Star Graduation- [991014] Active
2027. Aliens came to the Earth and for a year a group of them will study as international students for a year. They aren't much different from humans apart of some features like wings and tails - and they have special abilities. Main hero is student council chairman and he needs to help them socialize.
Another SIM. There is a set of parameters like curiosity, intelligence, physical strength. There are five heroines. Hero needs to organize his schedule for each week. On weekends the only option is to rest or to go on a part-time job. There are a lot of fixed events like sports tournaments or national holidays, so it gets repetitive on consequential playthroughs. Basically we only need to raise specific parameter so specific value and one of girls will automatically take the bait. Since heroines are aliens, they follow some archetype - cat, maid, angel, raccoon, fish. Otherwise nothing out of ordinary.
20.
Hand Maid
ハンドメイド [991015] Telluru
Main character returns to a previous work in a Western-style mansion after a long absence. He recieves a challenge from his master's friend to train the best maid out of a usual woman. He takes up the challenge.
There are three girls to train. The maid grand prix is held three times, so it's needed to win it three times in a row... Just a usual maid SIM.
With the advancing technology, man is able to create realistic man-made humanoids. One variation of such is the virtual brothels, one of which is called Karma. Such places are so expensive that spending one night there costs a month's salary. You as the player of this game, luckily got a freebie guest pass to this virtual brothels. There you meet an overly cute robot called Kasumi, and she is who you will spend your night life with. However, your guest pass can only last for ten visits... Will you be able to stay with Kasumi forever?
There's a good English review on the game.
23.
Natsumatsuri
夏祭 [991015] Diskdream
In summer main character decides to return to his native town.
A nostalgic view, a comfortable air, a faint sound of river calm his mind. At the summer festival he meets his old acquaintance, and their memories start to shine anew.
Can't understand nostalgic works, probably because I can't associate myself with the main character. So summer festival lasts for 3 days, and there are actually many women to meet during that time. Each character has several endings with the total number of endings being 16. Of course, it's not usually explained why all the women fall for main character. And 3 days is not nearly enough to develop a relationship, but who cares.
Yuichiro Ino is a photographer who does not sell well. This time he has to take a job of photographer assistant to get the views of Kyoto. He rides the Shinkansen and gets to Kyoto where he meets four beautiful girls.
ADV with mini-games. Taking pictures is also organized as a minigame. There's no text skip and message speed is not adjustable, so it's a very painful game. Second half is actually about how the hero gets involved in a murder, but the story is sloppy. Period is only three days so development is forced. Enjoy Kyoto views and the girls, quite average game.
The main character is a graduating high school student.
On Christmas Eve he confesses his feelings to his childhood friend. She passes him the ring saying that she will come to him when he remembers. In a dream a mysterious girl comes to him saying that he should get the paired ring in order to fulfill his hopes.
Paired ring is divided into many pieces and scattered around the world and some pieces are hidden in the world of books. You can gain access to the world of each book by buying the needed book at the antique shop. Different girls need different books. You start with the ability to read three books overnight and that will increase with time. If you choose wrong books, you may fail to meet the girl. There are 8 heroines. So it's a SIM with multiple girls and endings.
26.
Yarasero ~Fujiwara Saori no Baai~
犯らせろ ~藤原沙織の場合~ [991015] Noise
Main character can't take his eyes from Saori Fujiwara. He wants to make shameful pictures of her and then blackmail her into a relationship.
Basically first it's making photos and with enough of embarrassing photos it's possible to force either true love or SM relationship. Nothing but 3D nukige here.
27.
Daraku ~Kindan no Sound Novel~
堕楽~禁断のサウンドノベル~ [991016] RATI
Shinji is a second-grader who attends a private school since his best friend Satoshi attends it. Shinji can only gain sexual excitement in situations of insulting women, so he's always unhappy and unsatisfied. One day Satoshi tells him about a secret place where Shinji can freely do to women anything he desires...
Very simple blainless nukige, just choose and scene and here you go.
28.
Pocket Love ~if~
ポケットラブ ~if~ [991021] KID
An alternative version of Pocket love with two new characters, money concept and new unique events introduced.
The main change that there are semi-erotic events introduced, like kissing and massage. The period is longer - since Christmas to White Day. There are 6 heroines overall.
29.
Fifth
Fifth ~フィフス~ [991022] Rune
A mage found a magical girl and decided to raise her. He trains her in Earth, Water, Fire and Air magic with some help. She has the potential to become an angel, demon, or even human. How his treats her will determine what she becomes.
Yet another training SIM. Now the loli version. Actually it's much closer to ADV this time. In ten days there's a devil/angel branch and after 25 days game's over. There are a lot of events scattered around. The amount of text is small. There is no voicing.
30.
%% ~Fuuin no Otome~
%% ~封印の乙女~ [991022] Infinity
In the past a warlock put a curse on Haruma high school, and students became lazy and spent days in a corrupt manner. The school guardian Aoi sealed the warlock and returned peace to the high school.
50 years from that time the seal got weakened and the warlock broke free. However, he lacks the power and starts to use maiden girls to renew powers.
Only main character can revive Aoi, but he also can't allow warlock full resurrection. To prevent that he must seal maiden girls with the power of sex.
I can't stop surprising why inventing such elaborate settings for nukige. I guess it's because it's bakage as well. There are quite a lot of gags and the spirit of craziness governs here. By the way it's not explained anywhere why the title is double percentage. The main theme of the game is underwear fetish.
31.
Harem Racer ~Koi no Regulation Matta Nashi~
ハーレムレーサー ~恋のレギュレーション待ったなし!~ [991022] Jam
Hero is a racer of a Forumla 1 team. He needs to train every day before the races, but at leisure time he can also pursue love.
A very ordinary SIM. Fill the daily schedule, plan events of weekends. Some girls are from your team, but most are just random girls to drag after.
32.
Mizuiro no Chizu
みずいろの地図 [991022] Janis
Hero is a police officer. At his workplace he meets a variety of girls. Most of them have a mystery aura around them. He wants to protect them and to know more about them, so he leans to them...
We're a cop on patrol and need to choose various spots on the map. There are a lot of girls and each girl has both good ending and bad endings. The period is short and the volume is small.
33.
Promise
Promise ~プロミス~ [991022] Cherry Soft
A girl suddenly appears before the main character reminding him of the youth promise to marry her. Whether he accepts those feelings or gets drown in a whirlpool of temptations, is up to him.
Cherry Soft is famous for its graphics. However, there is zero scenario. Just H.
34.
Renegade
Renegade レニゲード [991022] Uran
Rail has a faint feeling for his childhood friend Tina.
Tina gets mysterious power and is chosen as chief of the temple because of it. From that day Rail feels that there's impenetrable wall between them. One day Rail meets a woman Luana who is a messenger from the temple and who requests to cooperate to protect Tina against the new king who desires to eradicate the rival in the temple. Rail gathers a team to oppose the king.
Game has no reviews and only after trying it I understood why. No skip. Speed is non-adjustable. Font of previous lines gets blurred all the time. Despite the synopsis there are no RPG elements here. There are a lot of choices, each of 2-3 lines. Battle is shown only to pick which girl to help. So it's an eroge with quite pleasant fantasy story, but horrible system with no options is a huge drawback.
35.
Tsugunai
ツグナヒ [991022] Blue Gale
Main character lives with her sister Nana after their parents died in an accident. O
ne day Nana got insulted by a group of rich men. Hero
becomes a lecturer at a girls school where children of abusers study. Main character invites such girls to a remote villa for supplementary classes to have his revenge.
Just an insult nukige.
36.
Yakouchuu II ~Satsujin Kouro~
夜光虫II〜殺人航路〜 [991022] Athena
Main character is invited to the voyage on a luxury liner Dynasty. A huge explosion happens and the ship sinks. Hero is drifted on his lifeboat to a mysterious abandoned ship Pandora where he unwillingly has to land.
The theme this time is murder. The structure is the same - after seeing the best ending of the story, the next story opens up. A worthy horror sound novel sequel.
37.
Yuuin no Toriko ~Main no Utage yori~
憂淫の虜~魔淫の宴より~ [991022] Black Package Try
Takahiro Fujisawa is a not noticeable young man who secretly insults and tortures women. He has always been successful and avoided sentence. He is appointed by his uncle as an insurance doctor to a girls school. This is an ideal hunting ground for him.
Ok, I should probably stop commenting obvious nukige already.
Main character is training girls to fit specific requests. His goal is not just produce a mindless doll, but to save individuality and feeling of shame.
He considers it art.
Yet another insulting training SIM.
39.
Prismaticallization
プリズマティカリゼーション [991028] Arc System Works
1
2
Prismaticallization is a dating sim, whose hero is a highschool senior named Shoji. He finds a strange object when he's invited to a summer resort by his classmate Akemi. The object causes him to repeat a day, but seems slightly different.
The same day repeats over and over, but there are some decisions that you can make which affect the next day like the decision whether to keep or leave an item - somewhat like in YU-NO. It's more of an experimental work, but it has much charm about it. Several mysteries remain unsolved. Very few things are explained and players lack information all the time.
40.
Revive... ~Sosei~
REVIVE... ~蘇生~ [991028] Data East Corporation 1
The protagonist of the game, a high-school student, finds himself and other characters (mostly female high school students) trapped in a marine research facility. Exploring the abandoned building, the hero discovers the research staff died under mysterious circumstances. Was this a murder committed by a human being, or some sort of an unknown evil force? The hero does not have much time to think, since whatever took the lives of the scientists also threatens to murder them...
System is akin to prequel Doukoku Soshite with navigation on an isometric map with traps, puzzles and timed sequences. It's definitely much more difficult and fancy than the prequel. There's not much of the story and gameplay does not have fresh feeling anymore, so overall impression is worse than that of the prequel.
41.
Harlem Beat: You're the One
ハーレム ビート you're the one [991028] KonamiCorporation 1
Visual novel adaptation of the hit basketball manga. The player becomes the team's manager and engages in conversation with its players while also managing their plays.
42.
Angoru Moa ~Daiyogen no Ketsumatsu~
あんごるモア ~大予言の結末~ [991029] Authoring Heaven
Hero was walking when he remembered not locking the door. When he came back, a girl was getting food from his fridge. She turned out to be Angolmois the Great King of Fear from the Great Prophecy! As he soon got to know, whenever girl got disappointed, large scale natural disasters started to happen, so he decided to keep the girl at home till she's taken away. He now has to live with her, make her happy and pray for long awaited pickup team to take Angolmois away.


We get to save the Earth again! And again by making love... There are much more girls than just Angolmois, but at this point the game is already beyond redemption.
43.
Devote
[991029] 13cm
Suddenly after school main character is called to the class with four girls. The girls asked to make love to them. At first main character thought it was a joke, but that was a serious request. And so began their after-classes experiences.
Game turns into a nukige pretty much instantly. Whatever girl gets all the events depleted first, receives an ending.
44.
Heart ni Hi o Tsukete...
ハートに火をつけて… [991029] Fairytale
A beautiful female fighter Ayaka Shimada appeared like a comet in the female fighting sports world and got a nickname "Fighting Goddess". She had a legendary trainer whom she owned her success. Two years later she finally stepped down from the pedestal. New stars show up with the feeling "I want to be as strong as Ayaka!" and it's coach job to fulfill those dreams.
This game is quite ero-centered so I struggled a lot whether block it or not. Training is simplified and battles are fightings are done through cards. But there are quite many H-events in each of the six heroines routes. It's closer to the romance game than a raising SIM, to be honest.
45.
Kaiun Sentai Miko Sanranger
開運戦隊 巫女サンレンジャー [991029] Aqua House
1
"Seifuku Meister" is an organization secretly stealing uniforms (seifuku) from all over the world. In fact, one of the top executives of the organization, Captain An-an, is forcefully taking uniforms from girls right this moment. How does one get the girls naked in the first place? The answer is simple: just do them.
The dark plot of "Seifuku Meister" is nearly accomplished. The only uniform left is the shrine maiden uniform. One day, they receive information that there will be a "shrine maiden festival" held soon.
On the very day of the festival, Captain An-an and his followers triumphantly attack the site. However, they're confronted by a group of mysterious but cute girls: The Miko-san Rangers! Captain An-an and his crew fail to accomplish their mission.
Captain An-an comes up with new plan: Get the legendary shrine maiden uniform from one of the Miko-san Rangers!
Now, the erotic battle between Captain An-an and the Miko-san Rangers begins...
Just WTF... stupid nukige.
46.
Koufuku no Katachi
こうふくのカタチ [991029] E.G.O.
The main hero discovers a strange long rabbit ears girl who got hurt in an accident. The girl does not understand human language, but is of cheerful personality. As their cohabitation begins, it gets known that the girl is the last descendant
of the tribe that can make any wish come true.
At nights main character starts to travel to some fantasy world filled with lots of exotic races. Cat ears, glasses, maids, wings, sickly sister - game goes for all kinds of fetishes it can come up with.
47.
Magical Treasure ~Kanojo wa Maid 2~
マジカル★トレジャー ~彼女はメイド2~ [991029] Bell-Da
Our guy became lord of a remote town inorder to find a cure for his childhood girl, a princess cursed into sleep at age 16 by a black dragon. He heard there are fairies around that town that can help him find a cure. This is a Simulation, Role Playing and Adventure game. Monday to Friday is Simluation part, where he manage his town and train himself. Saturday is the Role Playing part, where he go out with one of his fairy maids to explore and find items. Sunday, the Adventure part, he can take one of his fairies for a date or go meet other girls. Also on Sunday, he can mix and use his items collected on Saturday for fun.
Main SIM genre got oversaturated... so let's do the same, but throw some RPG mix altogether and it will be ok! Not.
48.
Maina ~Haja no Ketsumyaku~
舞菜 ~破邪の血脈~ [991029] Kappadou
Yoichiro comes from an old religious family, but he's unaware of his roots even though he has a potential. His parents worry about the decline of the clan and they decide to marry him on a talented spiritualist Mai even though he already has a fiance Yuko. The demon is aware of Yoichiro potential and he tempts Yoichiro through his classmate Taeko.
Game is quite dense with H events and story does not really hold much. Even upon choosing an option leading to bad end you can go on from last decision.
49.
Mochimono Kensa
持ち物検査 [991029] Zero
Main character is a teacher in a strict girls school. It's forbidden to bring many items to the school. The pretext of thorough belongings inspections is often used here to insult girls. And if something forbidden is found - like a candy - a severe punishment ensues.
Just a nukige. Usually we choose scenario and then are offered interactive choices.
50.
Partner ~Sekai de Ichiban Taisetsu na Hito~
Partner ~世界でいちばんたいせつなひと~ [991029] Shape Shifter
Main character is a teacher who gets to know one day that he is very popular among girls. Erika is anxious to astonish him with culinary skills. Natsuki keeps her grades up and involves teacher in serious talks about future career. Sakaki is an artist who feels joy after being praised by the teacher.
This work marked the start of Tony legend as an artist. Apart of that game consists of two parts - in first one we choose a girl and set flags. And in the second part we're in relationship with the girl and - depending on the choices - can enter devil mode.
51.
Psycho Rhythm
[991029] Vision Soft
Five scientists died in the explosion upon conducting an experiment.
Among them were Samba Hiroshi's parents. He lost parents at the age of 12 and was taken in by the neighboring Imino family. He lost memory and only faintly remembers being in the laboratory just before the tragedy happened. After graduation we started working as assistant detective in the Imino family and the first job is Left Eye case. Over 60 victims were found with their left eye gouged.
Imino family head found the clues to it and was killed while investigating abandoned port warehouse. Samba is set to reveal the conspiracy behind this case and secret ESP's organization that manipulates unknown power with unknown purpose.
Game's based on a very weird engine. The battles in the game are done in turn-based mode with several parameters to take care of - stamina, soul and E.S.P. Each card has attack points, defense points. Upon some condition E.S.P. skills are allowed to use during the attack. As for plot... it's very trashy... I hope the chosen CG alone tells well to what extent.
52.
Pure Mind ~Prelude to Harlemblade~
[991029] Giga
1
You play the role of Rian, who lost his memory and was taken care of by a mercenary called Will since 3 years ago. Since then Rian joined Will's mercenary group to work and got pretty popular, especially among girls. Now, Will orders Rian to help stop the war between 2 foreign countries, and through this journey Rian will gradually recover his memory. After Will gives you the task, you have the freedom to choose 1 of the 3 main heroines by finding them in your town. Later, a knight (female) who is one of the 2 warring countries will join you.
There's an English review of this Giga game.
53.
Yume Nikki ~Tooi Sora no Shita de~
yume nikki ~遠い空の下で~ [991029] Pride
Main character gets a part-time job to tutor the daughter of a famous fashion designer. But his employer dies and arrangement is cancelled. However, he's approached by the second wife of the deceased man asking to insult and train deceased man's daughter in order to sell her to a wealthy house. It goes contrary to main character's ethics, but when he sees the innocent smile and gentle manners of the girl, he already knows the answer: "I'd like to insult a girl like this ..."
The synopsis does not leave a slightest hope for a decent game - it's another insult nukige.
54.
Yume no Tamakura
夢の手枕 [991029] DNA
A collection of three stories:
Spring love 「春よkoi?」
Ultra-happy wife 「超・おさな妻」
Strongest woman wife in history 「史上最強のおしかけ女房」
Can't stand multiple story antologies.