Ruriiro no Yuki
is the only masterpiece of March 1997.
Grandfather summons main hero to announce that in order to get inheritance he has to teach several maidens various sex techniques during a month. But it's so easy to fall in love with one of them...
H training SIM. But the art is gorgeous here so even some innocent minds were caught in the snare. The ending is quite surprising as you may decide just to cooperate with one of the girls and poison the old geezer.
The protagonist of the game is a high school student who has lost his parents in a car accident. Living with foster parents was difficult, and he decided to rent the room in the house that once belonged to his real parents, feeling that their spirits will become closer to him that way. However, shortly thereafter the boy started seeing strange dreams. Upon his arrival he discovered a jar in a hole underneath the floor in his room, and that jar miraculously produced a young woman named Ruri (which means "lapis lazuli"), who becomes a part of his life in a way he would never expect.
Command selection that embraces the the formula of time. Well, it may rather be called an ADV since there are varying choices and at time there is just one choice. Genre is love comedy and there are lots of girls to capture. There are two endings for each girl. Game platforms of pc-98 and sega saturn weren't too popular already and Ail rereleased the game for windows only in 2000 when there was much bigger rivalry between titles. Game's praised quite a lot, but PC-98 version is a torture and I would not mind looking into 2000 version.
The player controls a young man who feels sick and visits a hospital. Once there, the plot split into different paths, depending on the choices of locations, dialogue responses and actions made by the player. All the branches involve focusing on one of the several available female characters (patients, nurses, the receptionist, etc.) and pursuing the short courting process to the point of its intimate conclusion.
Nothing really to add to the description. A very short PC Engine game.
After a guy recovered from an accident, girls seem to be attracted to him. It turned out that he can influence their feelings. Can he resist this power and stay true to the girl he loves?
City pickup type from what I've seen and not a thoughtful one.
Hero calls a girl who he loves for a long time to the roof to confess his feelings, but gets dumped. He gets to the heavens as a result of an accident but is kicked from there for harassing the angels. There's the positive side of it - now in the form of a ghost he can harass different girls.
Fully animated game, same as previous game Henshin Ring. But this time scenario gets cut even further resulting in a third class animated H game.
One evening girl "Melody" came in a dream of a hero. She said that there is a girl who thinks only about him all the time and in order to show her heart Melody will develop mysterious world in reality and in his dreams. Will her feelings be able to reach his heart?
It's an ADV with parameters of LIFE, VIT, INT, LUCK. Those parameters rise or fall according to dialogue choices and those parameters serve as qualifiers for each girl branch. The story goes like this: 1. Dream-1 which is basically a prologue 2. Reality-1 is searching for a heroine 3. Dream-2 depicts the past of the heroine 4. The relations. Characters for capture are rich in variety - there are six of them. Capture is difficult because of the stats requirements. Each girl branch is unique story so it can be enjoyed nicely. Light game that managed to grasp the individuality of each girl character.
You play as a college student who happens to live right by the campus. It's summer and you're going to America for Christmas, but you'd love to get a woman before then.Your three buddies Kousuke the jock, Tetsuya the DJ, Taizo the nerd and you vow to find a girlfriend before Christmas time. You already know some girls, so it shouldn't be a problem. But you have been having weird dreams of some mystery girl and when a walk in the park leads you to find a girl that looks suspiciously like the one of your dreams, you find that maybe you do have chance with the ladies. But, let's face it. You have to juggle part time jobs, romance, and seeing your dude friends. Welcome to Refrain Love.
Part one is where we choose among the girls, part two is the dating part with ending showing 3 years later moments. There are seven girls to choose from. There is adventure part and SIM part where we earn money at part-time jobs and spend them on dates and presents. Quite light moe dating sim.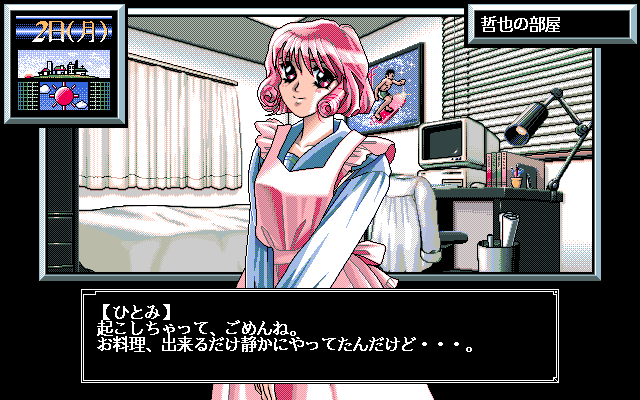 Tetsuya is the fourth grader of Hiiragi University graduating this spring. He does not have any prospects for future job and spends much time with snowboard circle members. One day he finally gets a letter that he passed the job interview to a solid company. With that he's going to propose to the girl he has loved since high school during the snowboard training camp. Suddenly the camp gets cancelled as only 10 out of 15 needed people opt to go. Now Tetsuya needs to find the leftover participants and fulfill the dreams of his life.
Quite an ordinary boring ADV. There are as many as 16 girls available for capture. Saving is only allowed at saving points. Graphics are of good PC-98 style.
9.
Ayakashi Ninden Kunoichiban
[970314] Zero System 1
There is a world where shinobi (ninja and kunoichi) are recognized. The story centers around Kaede, who enters Princess Yuri School (Himeyuri Gakuen) and offers assistance to three girls for one year, who happen to be guardians. The top graduate is given a special privilege to become a freelance Shinobi. After entering, Kaede strives to serve a favorite person for one year.
10.
Stand by Say you!
[970320] Human Entertainment
1
Main character is a son of voice actor who suddenly becomes anime sound director after previous sound director withdrawal. He needs to maintain some quality level and operate within time limits to produce full season of anime "Interrupt Girl".
Game's pretty weird. Voice recordings have just a single variant, so no matter what you do you'll hear the same lines. There is almost no interaction as things unwind by themselves.
11.
BOYS BE...
[970328] Kodansha 1
The title of the series is explained in the first chapter where the author refers to the quote "Boys, be ambitious", which was said by William S. Clark and has become a popular motto in Japan.
The series focuses upon the ups and downs, joys and sorrows of first love and teenage romance. Six students struggle to find the perfect partner and their adolescent limitations.
In the game the player takes the role of a baseball coach of Kasumigaura high school female baseball team during a period of one year. As a coach it's needed to decide the direction of training (battling, fielding, etc.) and check each girl's progress each week.
Basebal team manager game, but of course with everyday activities as well which include team room conversations as well as events such as Valentine's Day, summer festival, culture festival and so on. Multiple endings are promissed. There are many installments of this series, mostly for playstation. It's sad the series went the sport manager way, but it can't be helped.
The game is set in a pseudo-historical scenery that resembles the Victorian era in Europe. The player is cast into the role of Foster, a manager of a large mansion. The owner is a young lady named Carol, daughter of the late baron who was successfully running a brothel in it, until it was burnt down. Now the house is rebuilt, and the business can start again. Carol entrusts Foster with teaching and managing the work of the maids, who double as hostesses and prostitutes. What is meant by "teaching" is actually training in all things related to sex.
Again erotic raising SIM. And again cards introduced for some reason. If you watched the hentai anime version, you already know not expect any story here. The genre itself was in the bloom thanks to SEEK.
Adult dating game featuring both teenagers and a couple of older maidens. The interface follows the standard Tokimeki format with a conversation portion where you engage the target of your interaction in conversation and action. The rest of the screen is taken over by the animated persona of a girl. Her facial expressions and attitude towards you will change depending on your level of social skills.
15th rank game by sales in the first half of 1997, that means something! Actually, that only means that it had sound and H-scenes and that was still new with few Windows games released. Contents-wise it's a transformation period work, not nampage already, but without character depth or good story.