After starry October nothing really shines this month. If we narrow down the candidates I'd have to choose from

Mashou no Kao, High School Days, Sotsugyou Shashin 2 ~Raspberry Dream~, Tsuioku
and

Kindaichi Shounen no Jikenbo: Hihoushima Arata Naru Sangeki. Last one is out as PS1 exclusive (win version nowhere to be found). Sotsugyou Shashin 2 is out as a difficult type of game for modern players. Tsuioku is way too obscure. High School Days is a really nice game, but even warm vanilla school game can't really invoke much interest with poor graphics and no voicing. I can't believe myself, but I'm nominating Mink's Mashou no Kao as VN of November 1996. This crazy nymphet game has a strong personality and leaves a lasting impact through the years.
Keiichi Hayama is an ordinary Japanese high-school student, who has lost his parents and lives together with his foster mother and her daughter, which he considers his own sister - or so he thought... Because all the boy can think about is sex, and the two women he lives with are both very pretty, not blood-related to him, and also sex-hungry. To make things even worse, an exceedingly well-endowed exchange student comes to live with them. In short, what follows is a series of increasingly erotic encounters, which pretty much sum up the plot of the game.
Graphics make the charm of the game. Exchange student Reika manages to be both young and mysterious and she makes the whole family degenerate. There were also multiple endings and partial voicing in the original game, so it had quite an influence.
Sera awakens in a mansion and is told by the owner that her relative owed a huge debt. Now Sera has to serve at the mansion to pay the debt. And there's a strict punishment for every small mistake there.
Yes, this is one of the least offensive images that I found.
3.
Tania
TANIA ~タニア~ [961101] Tips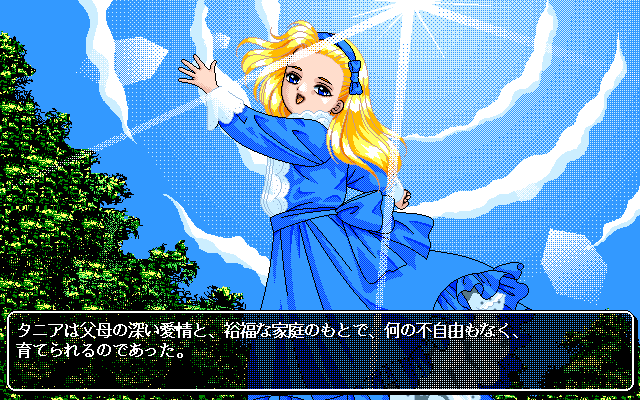 19th century. Girl Tania is born in a well-off family. But at the age of 6 a pillar of light pierced the girl making her faint and leaving a black mole on her chest. Now when the little girl grew into a young lady she starts to see strange dreams and to have strange desires...
I did not find reviews on the game, but the game develops mostly as an eroge and the inner demon inside Tania literally shows up and soaks the house with blood. Not sure if there's also a good ending to all that.
4.
Jun'ai Monogatari - Shuugaku Ryokou no Yoru
純愛物語 修学旅行の夜 [961101] Art Soft
Main character becomes is a normal student. During this school trip he definitely wants to lose virginity. He can try to spark the waning relations with his former girlfriend who never let him close or seek an adult woman company.
Basically it's a conversation game. Need to guess emotions and use phrases accordingly.
5.
Umizuri Wakadaishou Satsuki
海釣り若大将さつき [961101]
Echigoya Corporation
Today I came to participate in the fishing tournament. I'm looking forward to catching lots of fish, but it's my utmost desire to reveal the mystery behind the mermaid legend at these waters.
Kind of more of a gameplay game, but there is a dialogue window that's always on with some descriptions and phrases, so it should qualify.
Hero is a student who studies till 3 AM and goes to convenience store for refreshments. There he sees the clerk girl having sex with a man. When the vision passes the clerk stands normally at the counter. Upon leaving the store something gets changed in the hero...
Well hero starts to be violent towards women around him, so it follows an ordinary eroge trail. So it's a dark and serious development.
7.
Tenshi no Hohoemi
天使のほほえみ [961112] Masys
Desktop Collection Vol.3 Summer Desktop Items "Angel smile" includes among other goodies five theater episodes:
1. The story how three girls met each other
2. Taking action to regain memory
3. Riko regains memory
4. An incident occurs. What happens to Riko?
5. The aftermath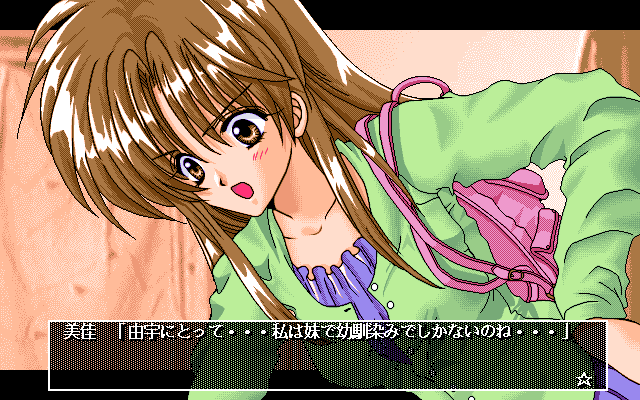 A collection of three stories:
1.「らぶらぶせらばに若奥様」
2.「がんばれ美佳ちゃん!!」
3. 「ソフトハウスの哀れな調教」
The stories are of erotic nature, but with comedy touch. Each story only takes about 10 minutes to read.
Takashi Sakamoto follows his father's job appointment and transfers from a high school in Saitama to Hokkaido. What kind of exciting youth adventures are bound to happen to him there?
Quite a truthfully told story about adolscense. There aren't adventures, just everyday school routine. There aren't heroes, just shy and awkward children. The story is light and starts from comical sequences to prevent being bored. Game system is command selection. A well-balanced modest work without affectionate moves or ending.
Talent cultivation simulator with the aim to become industry leader.
Scenario is flat and SIM part is affected by luck more than on strategy. And only save/load helps from bankrupcy. Ending is shown after three years without bankrupcy for all the girls that have high enough affection level.
Yosuke Katsuragi is a 3rd grade high school student. During the summer vacation he walks around the city without particular reason and encounters various girls. Who will be smiling beside him on the photo stand the day the summer vacation ends and the day of the graduation ceremony?
Could not find anything about part 1, but part 2 was quite popular. Simplified Classmate system game. It's mostly romantic focused and has big volume, lots of characters and interesting story. But... characters aren't too cute and the difficulty is insane to the point that no single person could beat it alone and with the internet loosely spread that was a devastating blow for buyers who could not finish the route.
September 31, 2000, you accompanied your friends to job interviews. You and your friends are senior college students, but unfortunately you need to continue college for two additional years due to some reasons. Since you cannot graduate from college now, you are in a bad need of a part-time job to continue your education.
At the same time you accompanied your friend to job interviews, you received some messages. Since that day, you become a private tutor for four girls.
There is an English review of this game. Formally it's a tutorship raising SIM game, but due to the ease of this part it should be referred as an ADV work with some SIM elements and quizzes. You train your students but you can also go on a date. Even passing an exam excellently raises relations with the student to a point that H-scene happens... Windows version of the game had a fatal bug and the patch only dealt party with it. So it's an average work without advantages and disadvantages, but it was definitely not a good enough quality work to resurrect the Angel series.
14.
Tsuioku
追憶 -ついおく- [961122] Bell-Da
A year after your graduation, you've become a security guard, and your first post happens to be at your old school, where you used to be the president of the student council.
But everything there seems off: the school is set to close, and everyone you knew seems depressed, or acts strange. Nothing like the flourishing school it was a year ago. And nobody will answer your questions about how this happened.
To your surprise, you get a chance of being the student council president once more and right the wrongs that have happened.
No impressions found on the game, but first H event arrives as soon as 15 minutes through which is quite early. So I guess the option to do everything right is not the only option in the game...
Teacher arrives to a school full of girl students and has to teach there for one week.
You can only move 3 times per day so only 21 move prepared and it's easy to miss everything. There result is either good or very bad. Trashy insult work.
Treasure Isle is rumored to hide a vast bounty of gold said to be guarded by the legendary beast "Yamawara", which Kindaichi and other treasure hunters gather to search for. But the host is killed before the group even arrives, and a bloody slaying takes place during a time in which none of the people on the island could have done it. Will the island's mythical monster-guardian claim more victims?
Famous boy detective franchise. Game is difficult in the way that there are lots of choices and one wrong choice makes you out off the board. There are locations in the form of interactive dungeons as well where you can perform a lot of actions. There are some 25 animation minutes promised. There is little mystery, it's definitely not a suspense story.
17.
One Way Ticket ~Fushigi na Katamichi Kippu~
One Way Ticket ~不思議な片道切符~ [961129] Aquarium
Hero mistakenly receives a one way ticket. Train takes him to a strange world. When train goes uphill hero finds himself in embrace of maid girls with cat ears and when going downhill - under special care of nurses.
Kusoge. One playthrough is only 10 minutes. Almost all CG are HCG. To see other variants it's needed to play over and over and messages can't be skipped.
Saint Diary is a visual novel focusing on the romantic life of a high school student named Kiyoka (the Chinese character used to spell here name means "saint"), who works as a waitress at the local cafe during a vacation. The protagonist of the game is a male college student who frequents the cafe and gradually develops a relationship with Kiyoka. Though there are two other female characters in the game, the dating aspect focuses exclusively on Kiyoka.
Quite a short story. Command selection within limited time was still fresh, main heroine is cute and has huge number of emotions showing on her face. Saves are also limited to the times when there is an option for it. After the ending there's the girl side of the story, which is probably the main feature of this work.
An overseas package containing a small key arrives at the detective agency from Jingūji's journalist acquaintance. Jingūji must uncover the hidden meaning of the key.
5th installment of the series that has been pestering me since the late 80s. There's quite enough information about it in English.
"Japan" is the country at the easternmost end of the world of Reims. It is divided by clans that constantly fight to take control of each other. Hara clan has a castle in Yamato and protects the Great Buddha with skillful warriors. However, forces under command of Oda Nobunaga unite neighboring countries and eventually exhaust and defeat Hara forces. Nobunaga promises to restore the clan if one of last survivors fights his way through the labyrinth and rescues princess trapped there.
RPG with next to zero story after prologue