Ma Doll and Sakura Taisen are the masterpieces of the month, but I prefer Sakura Taisen as VN of the Month
Game reproduces events of graduating school year, such as attending part-time job, participating in clubs and school festivals as well as getting along with the girls and inviting them on a date and maybe even spending vacations together with one of them.
Sega Saturn exclusive. It's kind of simplified Tokumeki Memorial, but with live-action photos. Game is not voiced apart of sound in movie cuts which makes it hardly appealing. Game focuses on holidays and vacations to make it even simpler. It was especially confusing that box only had anime characters and finding out live-action footage was not welcome by majority of players.
2.
Shinsetsu Kamiya Ukyou 3 ~Missing Link~
真説 神谷右京3 ~Missing Link~ [960906] Altacia
Middle - aged male bruised body was found at the tracks of Nakano station. Is it a suicide, a murder or a mere accident?
A prosperous beauty attorney Kai Tomoko of the Tokyo District Public Prosecutors Office asks Kamiya Ukyo to investigate this case. But when Ukyo starts investigation he finds that the family of the deceased is not as interested in finding the truth as in finding something that the man had on him.
Game's obscure. There is one Japanese review, but it does not tackle the plot - and understanding something in all those Kamiya Ukyou remakes gets more difficult with each new game.
Hero moves to locations on the map and experiences random encounters with the monsters on the way. Through winning a battle consisting of Magic: The Gathering card game match player gets money that he can spend on new cards in city shop and on winning event battles with bosses he also advances his HP and SC pools.
What will happen if magic: the gathering is mixed with Little Red Robin Hood? That question tormented people from TopCat company and they presented their own vision. MtG in 1996? That was very fresh. There is also some nudity in this work. I probably should not not that the game is very addictive like most of MtG games.
4.
Ayu
あゆ [960912] Bell-Da
Point and click adventure inside one room together with a girl.
An ordinary kusoge. But picture and sound are quite notable. But that's not enough for a game to stay in memory and nowadays the game is next to impossible to find.
One day an invitation arrives from a friend who was with you in the tennis club when you were in middle school. It is an invitation to the reunion of the tennis club members. You have one week. You can either go for your first love, or find another love, or become a cupid for others...
There are two English reviews for this game but what we need is a perspective here. This game is the first masterpiece game for Windows 95 and just look at CG - it's totally beautiful and playable nowadays. The systems looks like a simplified "Undergraduate" since you move on the map and talk to the characters. This work marks the tendency to simplify gameplay elements in favor of the content.
Rei Kidachi has just transfered to a new school. When he went to the school at the first time, he saw two girls in strange suits. At school Rei found out that those girls were "majokko" – persons with supernatural abilities such as flying, invincible strength etc. Rei doesn't know yet, that soon he will meet them all at his new school.
Tiare is actually subsidiary of JAST. The most fascinating fact about this game is that events take place in the same school as Seasons of Sakura and some facts directly refer to Seasons of Sakura. Little is known besides that and I'd wait till asenheim updates its translation to modern google engine or at least adds copy to clipboard feature.
Space explorers from Earth discovered a strange cosmic object: a giant pumpkin nearing the planet. Upon establishing contact with the pumpkin, they discovered that this vessel belonged to Prince Q from the planet Omega. The planet's super-computer (with a powerful 4 MhZ processor) determined that the prince has to get married. In order to do that, he has to descend onto Earth and find a suitable candidate - naturally after having conducted a thorough sexual examination.
Game's a total bakage. Prince has no understanding of the world he arrived to and that triggers multiple awkward situations. There are five heroines, each with 2 H-events. System feels uncomfortable and furthermore it's not hookable.
8.
Get!
[960913] Black Package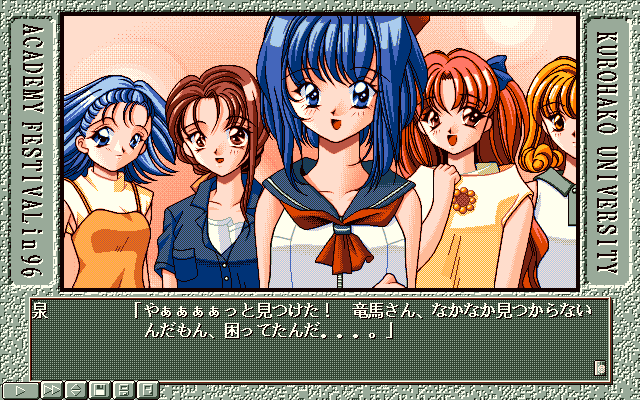 Main character is going to participate in school festival competition for couples with the ultimate prize of 1 million yen. He needs the money to secure funds for his game production circle. But first he needs to find a girlfriend.
A rare romance game at pc-98 platform. There are 12 different girls as potential candidates.
It's the end of 21st century. Five high-school youngsters are out camping near Tokyo. Suddenly, they are transported into a different place. It looks like a jungle. It's very hot. And it's certainly not Japan. As the heroes investigate the surroundings, they realize that they were taken to Lagoon Republic, a mysterious independent country on a tropical island that has been the home of a bizarre incident over seventy years ago. Now the young people have to find the truth behind their presence in Lagoon, and to solve the mystery of the island, while avoiding the dangers that await them.
It is a survival game as the party gets drawn into a civil war. The ultimate aim is for everyone to survive and that's very difficult to achieve. Usually there are two choices with one inevitably leading to death. The tension and frequent death scenes are ok, but there is no real story besides survival. Game also have very few H-events. Quite a strange game from Illusion.
In "Ma Doll", the player controls a young man named Kazuya. Little is known about his background and past, and it seems like his entire life is dedicated to women. But his relatively peaceful existence comes to end when one day he notices a strange girl in the crowd... a girl who looks and moves as if she were an artificial creature. From that moment on the hero is involved in a bizarre story, during which he will have to understand himself and the world surrounding him...
Game's very famous for having very rich content. There are 17 good endings and a bunch of bad ones and clearing them all is very difficult. The number of CG exceeds three hundred and there's a lot of animation. Plot is intriguing and girls beautiful, so it's a game of very high quality, a masterpiece.
Hero's classmate gets violated and hero is asked to find the criminal.
Work exists mostly just to depict insult scenes, but there is also some occult and madness element.
Tenchi Masaki was a normal 17-year old boy until the day he accidentally releases the space pirate, Ryoko from a cave she was sealed in 700 years ago as the people thought she was a demon. In a series of events, four other alien girls show up at the Masaki household as Tenchi learns much of his heritage he never knew about and deal with five alien girls who each have some sort of romantic interest in him.
There is an English review for this anime offspring.
Fiz and Aria are two female bounty hunters. They carelessly accepted a dangerous beast extermination quest that they need now to fulfill.
Yet another Sogna competitor. But there's no voicing here and animation repeats sometimes. Everyone tends to remember only tentacle H scene since.
The year is 1928. The First World War has devastated the world. But life goes on, and people try to forget the horror of wars. The hero of the game is a simple, young Japanese man named Koshino. He is a member of the crew of a huge ship that carries on board prominent people from different countries. It sails from Japan to America, via the Mediterranean Sea. Before long the hero gets acquainted with the passengers of the ship - all from different countries, most of them pretty young girls, and some of them having their own hidden agenda. Meeting suspicious people on the ship brings Koshino to conclusion that something will go very wrong - unless he interferes and investigates, at the same time trying to seduce as many young foreign ladies as possible.
Game's appeal point is famous artist CG. Character designs are also ok. But actually the game is very weak as suspense. There is almost no story behind the characters and all the endings are unsatisfying. Game takes the period of six days and it's necessary to decide on the partner by the end of sixth day. During that time it's necessary to raise the love meter of particular to over 15 with a special scene in case reaching over 20. All the events are forced so need to talk to everyone awaiting some event. There are three time zones of each day - morning - midday and evening so you talk and talk and talk, then wait and repeat. There seems to be 20 answers overall and right answer gets a +2, so it's enough to answer half of answers correctly or even less correctly and some neutrally (neutral gives +1). So if you're here for the story, look elsewhere.
A westerner killer is hired in Echigoya of Edo period as a bodyguard. But his self-acclaimed disciple heroine wants to compete with him at every step. Perhaps together they will save the world.
This is a comedy work with heroine constantly harrassing a pokerface hero. According to reports it's quite big in volume. I failed to get past the opening sequence whichever version I tried.
Noma Minako is a surgeon who gets fired from the clinic due to amoral behavior. Now she gets a job in another clinic. Minako has both masculine and feminine personality in her, but only one side is determined to dominate depending on choices.
Failed to launch the game or find the synopsis IF it has any at all.
The world of Blue Breaker is called "the path in the middle of empty sky": floating islands connected with each other by bridges. It is the tradition of the people in this world that a fighter's full initiation can be completed only when he finds his true love and marries her. Such day has come now in the life a young warrior named Kain, the hero of the game. His father explains to him that besides the usual warrior's goal of defeating the evil Dark Lord, Kain also has to find the girl of his dreams. He introduces to him a young sorceress named Asha, who becomes his first companion. But on his journey Kain meets many other young women, and it won't be so easy to choose one to whom he can give his heart!
There is an English review.
Hero is a freelance writer. Because he has asthma, he visits a hot springs resort and stays at a small ryokan. A relaxed atmosphere governs here, but one day a dead body is found at the resort. The corpse is dried of liquid. Hero is interested in the incident and starts his own investigation.
Despite the detective synopsis it's a normal eroge and the mystery solves itself at some point. There is an ending for each woman in the hot springs as well as bad endings. The branching is logical, it's mostly choice whether to H or not and whether to get bad ending or not. Most of the girls are OL.
Kuro no Jyusan is a sound novel / visual novel adventure game supervised by horror novel japanese writer Tsuji Aya and divided into 13 different chapters, in which the player will have different game endings depending of his choices during the game. The game stories are mostly ghost stories.
Most of the endings are bad and miserable ones. Some are plain absurd. Genre not for everyone.
The original storyline, said to be inspired by the Shochiku Kagekidan, takes place in an alternate 1920s Tokyo. It follows the adventures of an all-female secret task force known as the Imperial Assault Force — Flower Division as they defend the Imperial Capital Tokyo against evil. They are led by Ichiro Ogami, a newly graduated Imperial Navy Ensign who had been assigned to the squad partly due to his unique ability to use a special type of armor that only women having high levels of spiritual powers could previously operate.
There are many English reviews.
21.
Toge
TOGE(棘)[960927] Poison Breath
Misako from wealthy family is kidnapped on the way to school. Female piano teacher becomes main suspect, but the same happens to her very soon afterwards. Who is the real culprit and what's his motive?
Game is of insult nature and with same dim tones as previous games of Poison Breath. A very painful and unpleasant work.