There aren't masterpieces this month, but I like
Rouge no Densetsu
the most this month.
Three sisters Miyu, Shoko and Mirei tell the stories where they confess their secrets.
Short ero-centered loli stories.
Long time ago, a legendary hero defeated an evil dragon. He wore a magical bracelet that protected him during the battle. years passed, and the memories of his heroic deeds, even his name, have faded away from people's minds. But a young girl named Rouge, who trains regularly in the art of sword-fighting, still dreams about a real hero - more precisely, imagines that she will marry one.
There is a great English review and long polish review for this game.
3.
Hanafuda Graffiti Koikoi Monogatari
花札グラフィティー 恋々物語 [960510] HAMSTER Corporation 1
Hanafuda Graffiti Koikoi Monogatari is a hanafuda game (a type of Japanese playing cards) that features a story mode and a free versus mode. In story mode, the game starts with the main character taking on different challenges in order to become the successor of a prestigious school of hanafuda. Player can enjoy lots of typical gameplay features for adventure game, such as moving around in the town, searching the room for special items and triggering off love story events. In free versus mode, two hanafuda games, Koi-Koi and Hana Awase, are playable. Game instruction can be displayed anytime during gameplay so even beginners can easily enjoy the fun of hanafuda. To fuel up the game further, characters with plenty of personalities and unique reactions will be appearing in the game. Seasoned players can also maximize their hanafuda experience by customizing their game with detailed settings.
There is a free battle mode and a story mode. In story mode we protect the dignity of clan... and go through a series of hanafuda battles all the same.
This is an adult Mahjong game with hentai images. The heroine was a well renown singer who's part of a performing troupe. She'd grown up with the troupe, and to her the troupe was her family. One day a royal summon arrived, requesting for her to be the kingdom's royal singer... and with the troupe's encouragement, she accepted the summon and was taken away to the castle. She was told that she was summoned because the King had once heard her voice and wanted her to be his royal singer, that it couldn't be anyone but her, but when she arrived the King didn't show any sign of this. In fact, he barely acknowledged her arrival, and no one else in the castle seemed to have the need for a royal singer. So why, exactly, was she invited to stay in the castle...?
There are two openings and an ending, but besides that nothing special.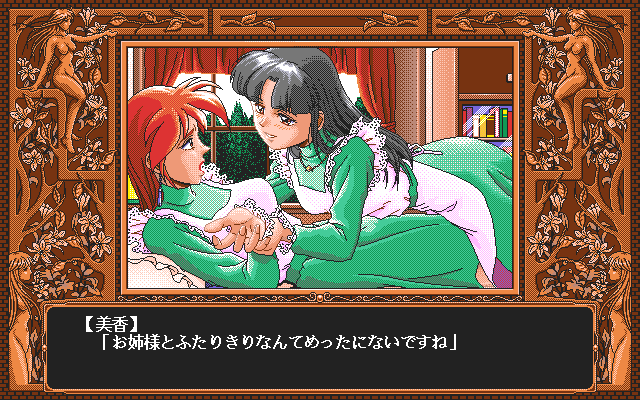 Kamimura Rei is a ghost killer. She is assisted by shrine maiden Shirui Mika who can listen to the spirits of the deceased. Together they solve thee spirit-related cases.
The three cases are straightforward and rather short. There is enough yuri element in the game. It's nice to see that Miki hobby is BL manga and she can be considered the first visual novel fujoshi. Game starts strong with detailed main heroines profiles and interaction between the heroines is fun, but game ends right after the three short cases and there's no feeling of complete work.
6.
Suki!
好き! [960524] Nikukyuu
Hero's mother and father have gone overseas leaving him with his older sister. A new school year starts today and it's time for new opportunities and new love.
Game's not hookable, but the content is a generic SIM with day planning and looking for girls.
The protagonist of the game is a young boy who is about to graduate high school and is looking for a job to support himself during the upcoming college years. However, fate intervened and arranged a bike accident, which resulted in a meeting with a creature from another world - a cute fox-girl named Sharan. She needs nothing else but to be together with the hero; but a mysterious voice tells him: "one wish has been fulfilled, two more to go"...
Game from the studio that was probably the first one to specialize in loli. One way story with the meaningful choice only at the end. The appeal points are cuteness, loli and animal-girl. Nothing much besides that.
In Paparazzo the player takes control of a young Japanese male journalist who works for an agency that primarily covers sports events. Dissatisfied with his position, the young man considers becoming a paparazzo, working on his own to get pictures of celebrities. From that point on the plot branches depending on the player's decisions, as the protagonist encounters various women and may pursue relationships with them.
There as many as 11 girls in here. There are bad endings and the decisions determining the ending are done early in game. The game starts as a journalist story but goes on mostly like a love affair story with many H-events. Game's perfectly hookable, but I forgot to enlarge the border while capturing.
Sound Novel Tsukuru is a Super Famicom graphic novel game where players can either read or create interactive fiction on their own console systems. Stories can be saved either on a battery or through a satellite connection.
The game comes with a previously created graphic novel about exploring an old house. Due to the limitations in the game's engine, it can only show shadows of non-player characters that the player meets on his journey. Settings can range from a modern day train to a rural house and even wilderness can be included in various stages of wildness.
A constructor for creating sound novels. Not even sure if it has premade stories or the videos are based on created stories.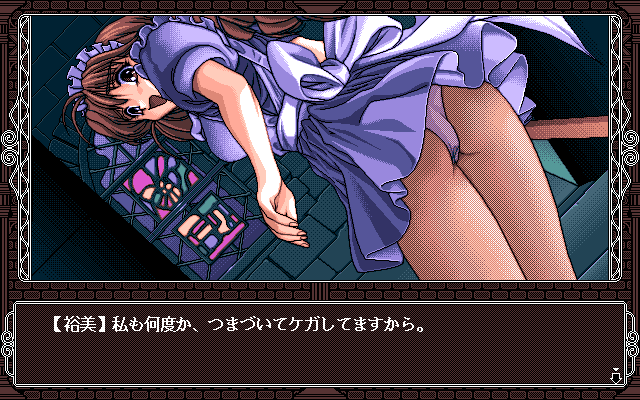 Hero is a college student. To earn his living he participates in hospital brainwaves study tests. He dreams of appearing in a castle as a new employee.
Multiple route and multiple ending adventure with 14 bad endings and only 3 happy ones. So capture is really difficult and the best ending is only achievable with 100% CG. The atmosphere is good, but content is ero-centered.