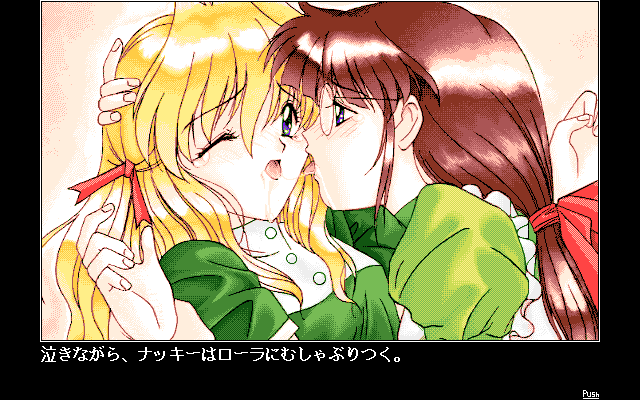 A collection of five mini-games with Alice from the Rance series.
The first two games in this series were only available on Japanese computers. It includes a quiz game "TokuSakari quiz Rerorero", fighting Prince Patton, a female teacher in agony hell visual novel with two endings - one good and a darker one.
As usual, game contains lots of short H stories and some additional materials.
A guy went on a graduation ski trip with his friend and their girlfriends. Before and during the trip, he met and had fun with a bunch of females. In some places, you can choose which girl he have fun with by going to one place or another.
Scenario is a single road with branching close to the end. There are 10 girls overall for capture. Content is quite poor.
Shimeji attends the Touyama High School. She has a best friend there, is successful in studies, and also has a part-time job as a waitress. Yet she is not happy. One day, her friends find her on the floor, unconscious. They bring her to the young school doctor, who also happens to be the protagonist of this game. The hero is impressed by Shimeji's beauty, but he is also determined to find the cause of her depression. Piece by piece he uncovers the truth about Shimeji's life...
Basically a hentai anime episode made into a game. Game is straight-forward and features Shimeji secrets one by one, can't see here any value over the anime.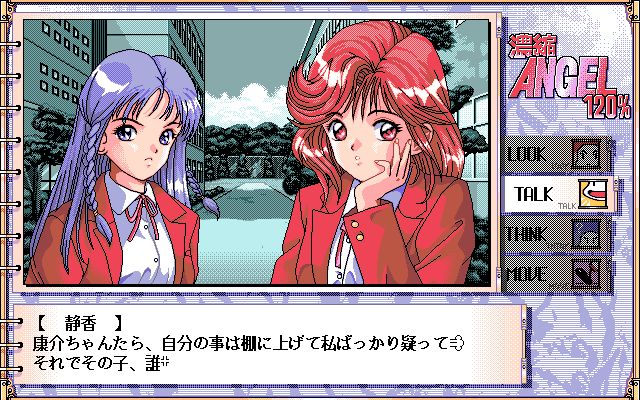 Heroine starts to have erotic dreams in broad daylight and starts to loose the grip with reality.
There are no reviews on the game, but there were way too many H scenes at the start to go on.
School Girls tells the story of Shinsuke, a young man looking for a teaching job. His uncle is the principal of a prestigious girls' high school, and he assigns to his nephew the job of a substitute art teacher. The rest of the plot is mostly dedicated to Shinsuke's relationships (sexual and otherwise) with the various female students and co-workers.
The game starts with a mystery of which girls wears the strawberry pants, but very soon forgets about it and turns into H events parade.
College student Kojima Kousaku is promised a high payment for assistance in scientific expedition on a southern island. However, a storm breaks out and the ship suffers a shipwreck. The crew gets separated and they start to search first for bed and food and then find a strange temple in the jungle.
I've prepared a full review of the game.
7.
Yuuwaku
誘惑 [950414] T2 Co., Ltd.
One day a young woman comes to the detective office and asks to find a picture that was left by her father. Hero rejects the request at first, but decides to look into it eventually. He starts to gather information about client's family with the neighborhood.
Game is based on adult manga work and all information gathering happens through the sex.
Nanase is promised by her grandfather to do as she likes if she wins the finals. And then the final match against Green Hornets begins.
I was partly confused by the fact that I actually had to lose in the finals to get a good ending. I knew some Pink Angel girl started to play for Green Hornets, but don't think it was Nanase.
Gush is a treasure hunter. He is searching for the Gomalie ruins at the request of Evonos Church with tree friends. As he was leaving the ruins he got caught in the trap had had multiple spear piercing wounds. He should have died but he awoke at the bed. His appearance changed drastically as he took the form of Edner who fell from the roof at the same time. He is sentenced to live as Edner by the church bishop. Then suspicious events start to happen one by one...
It was fully story driven but had poor sales. so next Ail games were of fanservice character and they sold much better. There is a huge sudden shift between first half of the work that's more of a gag comedy with Gush rejoiced about his survival and the second part that's full of drama and emotions. So the scenario felt unprofessional and left a sour aftertaste.
Somewhere in Tokyo is an underground club where important political and social figures gather to watch an unusual sport. Two women are put in a caged ring, in revealing clothes, and grope each other while wrestling. Whoever comes first, loses. No holds barred, and the loser has to endure any humiliation the winner asks. Into this ring comes a young girl named Aya, forced into slavery by people to whom she is nothing.
There are English reviews.
Yet another entry in the Viper series, Viper V-12 exploits the same format all the previous entries followed: there are three unrelated short stories which mostly consist of animated sex scenes, with some interaction here and there.
Here are the stories:
Future Investigator Bravan: Bravan is a powerful warrior clad in power armor, who fights for human beings in and has only one weakness: his pretty female comrades. A group of demons called "Donar", led by the mischievous female doppelganger Colonel Gel, decide to use the shape-shifting powers of the commander to lure Bravan to their lair.
Angel Dust: Kate and Julia, two cosmic rangers, attack a space pirate ship and board it, hoping to steal treasures and to become rich. But they were not careful enough when they entered the ship without any precautions: the space pirates had other plans for the young girls...
Magical Gambler: A young child has a dream which becomes reality: two cute flying creatures appear in front of her and give her a magic rod. However, when the girl uses the rod, she miraculously turns into a young and sexy woman. She decides to use the powers of the rod for her own greed, and becomes Chiyomi - the Queen of Gambling...
There is an English review.
Nocturnal Illusions' genre is a mixture of a dating sim and visual novel. In this game the main character decides to get away from it all during his spring break and stay in the mountains. While staying in the mountains a massive storm causes the main character to faint. A mysterious woman saves him and uses sexual pleasure to keep him warm. It turns out that he is now in a strange old mansion. The woman who saved the main character is the mistress in charge of the place. The main character decides to explore and while there meets many women as the story unfolds...
Game is localized and has overwhelming number of English reviews. I've seen it to the end and can't say it's a game for everyone. It has good text and mysterious characters, but don't expect much plot here. It has its unique charm, but can't say I got a good impression out of it.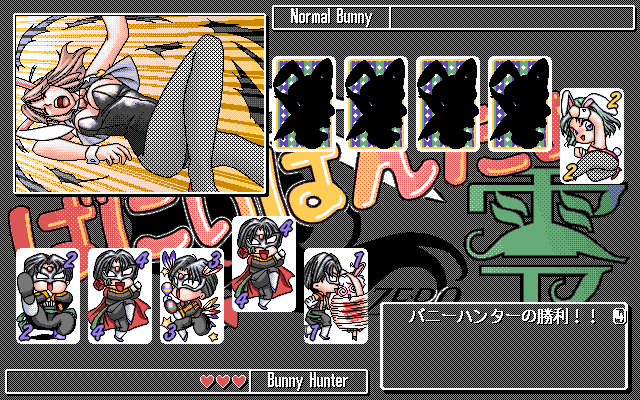 Hero is a salary man and he investigates disappearance of his father with the employees salary. The lead takes him to the "Neo Bunny" organization which members are dressed like bunnies. Hero gets attacked by a group of bunny girls on the street. As he wraps himself in matador suit, he feels that he now has power to oppose them as he becomes now "Bunny Hunter Zero".
The only English review is from someone who does not understand Japanese. Synopsis looks weird... only because that's a weird bakage with little sense to be found. Game features card battles to keep players from getting bored. Another strong side is graphics as the characters were cute and attractive. Card game is also cool, not just another mahjong. The gameplay is quite fun, so game was actually quite popular... not for long, of course.
The follower-up to the first Erotic Baka Novel game is similar to it in structure: it is a visual novel with multiple story lines, which take place according to the decisions made by the player during the game. The protagonist is once again a regular Japanese male; this time, the initial "trigger event" is a message on his pager. Three different choices regarding his reaction to the beeper's sound lead to three very different story arcs, each involving its own sub-branches.
There are three branches from the start and new branches open up after seeing consequent endings. There are also bad endings as before, but overall there are much less choices than in prequel. Stories are quite interesting involving third world war and other planets among others.
Pink Tigers is a secret criminal organization composed only of women dealing with kidnappings and robbery mostly. Protagonist gets a request to rescue one kidnapped child.
An ero-centered les work.
Three sisters of the Saijō family - Michie, Saki, and Erika - lived together peacefully in a quiet house. Their parents have died but left them a very large fortune, which evoked jealousy in people surrounding them. On Michie's twentieth birthday their greedy and corrupt uncle, who recently lost a vast amount of money due to failed business transactions, sent his goons to extort from the young women the fortune they rightfully possessed.
There is an English review.
Keisuke Murakawa is a teenager who used to have tender feelings towards his childhood friend Makoto Aizawa. However, they grew apart as each was busy with their own school life. Now, when both begin to attend the same high school, Keisuke is unsure whether she or any of the older attractive schoolmates is the love of his life.
First part is nampage with all the girls. Second part is pure love story with the main heroine. Third part is H bonus. Quite an ordinary work, but characters aren't based on archetypes and thus feel realistic. Notably, it's not I-ADV, but just ADV with only conversation choices to matter, but structure still suffers from I-ADV heritage, so a mismatch is felt. Game's got good sound support, but it does not make this work special and second part is not long enough to save it.
18.
Rondo
ロンド [950428] Frontier
Protagonists sees a mysterious girl in his dreams who reminds him one of the girls in the class. This is a story of his relations with several class girls over a few days.
Game was interesting enough for me to see it through the end. The coolest part is confrontation between his childhood friend Fujiwara (descendant from Fujiwara clan) and mysterious girl Hojo Miyuki (descendant from Hojo clan). And the protagonist turns out to be descendant of Yoshimoto. On top of historic parallels there is enough mystics involved to keep interest all the time.