On a secluded island known as Onigashira stands a prison for women. In this prison, inmates are being methodically raped and tortured by wardens. The player is invites to witness the events that take place in the prison from the point of view of five characters: two prisoners, the lovely 23-year-old Chika Kanzawa and the innocent teenager Miki; the sadistic female warden Enko, the police officer Otonashi Youichirou, and a mysterious man known as Seiki, who has his own agenda.
Picture and animated H scenes dominate here, but there is still room for the story since there are multiple interconnected branches and a zapping system of changing viewpoint.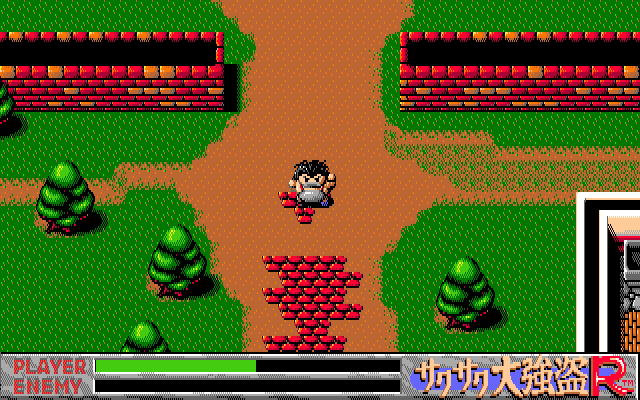 The playable character in this game is a blacksmith called Bargon. As he introduces himself in the beginning of the game, he explains that he enjoys killing people. And that's exactly what the player will have to do while controlling this character. Bargon enters a small village, where he is able to kill anyone, including little children. If the "attack" key is pressed when Bargon is near a young woman, he rapes her instead of killing. Most of the people he kills can't defend themselves and are completely powerless while he is slaughtering them.
There are English reviews.
The sixth (or fifth and a half, as the title suggests) installment of the long-running Can Can Bunny series belongs to the same story arc that started in the fourth game and was continued in the fifth. The player character is the same nameless hero that starred in the two predecessors. But in this game, the lovely goddess Swatty is not here to help the hero to find girls. Instead, all the hero gets is an apprentice goddess named Sawady, who is just a brat and who bothers the hero all the time. Looks like this is going to be the toughest quest yet, with Sawady around and with pretty, but tough-to-seduce girls!
No-no-no-no-no-no. No! The whole franchise was holding on Swatty's charm. Actually, it's a minor game, that's why it's sequence number is not 6, but 5.5. Game's done just to present this kindergarten brat Sawady. In real part 6 Swatty and Sawady will be there together to help you. At least unlike most of nampa games this one is memorable thanks to Sawady constant failures and pestering.
You guide Tenchi around the house and get yourself into various scenarios with the female characters. The story is centered around a girl named Hakua from the Galaxy Police who ends up on Earth with Tenchi and the gang for a short time.
Luckily, there are two English reviews for this anime offspring.
Zenith, a self-proclaimed "Full Animation Adventure Series #1", is a short interactive anime. The plot depicts a group of young women navigating a space ship and encountering horrifying undead monsters who assault them sexually.
This work features full-screen animated sequences and in that challenges Sogna in the genre.
Karei naru Jinsei 2 is a board/dating simulation game, very similar to its predecessor. As in the first game, players can compete against each other or against computer AI in an adult-themed board game, with the eventual goal of having sex with various female characters.
Second installation of monopoly-type game with theme of everyday life and dating. Since it has no story and systems are relatively based on prequel, a pass.
Hero is attending preparatory school for a year. He lives alone and has to earn a living at part time jobs. If he still has time, he can pursue love interests for girls in the neighborhood.
Another dating sim, right? I'd say it's survival sim... You need to plan for the week ahead your studies, recreation and part time jobs. Game is superdifficult with tonns of stats to keep in mind. It's possible to pursue many girls simultaneously ... but where to take time and money? Game manual says that there's a good chance to win weekly lottery if participate regularly... Oh, right, another money sink. This game is weird that it has like 40 girls to pursue, literally, all the girls in the neighborhood they must be. There is literally single CG with each girl. With 40 of them there should be no two opinions on the character depth. The game has pager as means of communication that only accepts number! Like 449244 means Let's eat and I've no idea how exactly to transform phrases in such numbers. Game is ridiculous and ridiculously difficult for the zero motivation it gives to continue.
The game revolves around Tōru and his girlfriend Mari, who are suddenly drawn into a horrible murder mystery while on vacation at a skiing lodge. The first part of the games develops as a crime-solving adventure. Additional murders occur if the player is unable to find clues, and the story culminates into a horror movie-esque ending.
The first game to be known as of "sound novel" genre. System is simplified in favor of text narration. There are lots of choices and multiple endings according to the choices, so choices form the game and not forced narration. Such concept gives an alternative to normal visual novels and Chuunsoft makes the genre shine.
Kyosuke, an ordinary Japanese teenager, receives one day a strange invitation to a foreign mansion apparently belonging to a mysterious rich woman. Disregarding the bizarre occurrences accompanying his first impression, Kyosuke agrees to venture into each of the four rooms with colored doors inside the mansion. Each door leads him to a different reality, where he is manifested in different incarnations that allow him to experience various kinds of sexual encounters.
Quite a simple ero-centered game.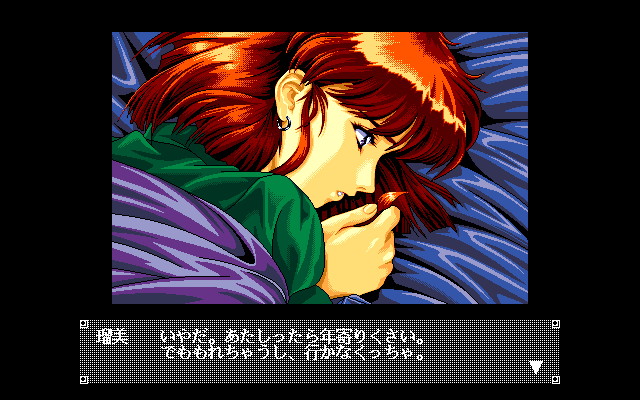 Heroine gets in a car incident and regains consciousness in a hospital. However, it turns out to be a base of some shady organization and her only option is to try to escape this place.
It's an Interheart game, so it's evident that there won't be an exit without struggle mostly presented by yuri love and SM.
Carrera is a female demon whose job is to create a wish granting contract with a human being in exchange for their soul. Along with her partners/rivals Mercedes and Rati, they carry out this job for the benefit of the demon world. When Carrera is summoned by the nerdy Ogawa, she finds him to be more interesting than her previous cilents and develops a crush. Mercedes tries to get involved with Ogawa also to compete with Carrera. However, the female angels are upset by this disturbance and are willing to purify the demons with their precious "holy water" to save Ogawa's soul.
There are English reviews.
Birthdays is a dating simulation game. The goal of the game is to successfully date a girl of the player's choice. The player first chooses a birthday and a name for his alter ego. Then he is presented with a calendar for the year. Visiting different locations (movies, shopping mall, etc.) leads to meetings with different girls. After learning their phone numbers, it becomes possible to call them and set a date. During dates, the player often has to choose between different dialogue lines to please the girl. It is also possible to buy present for the ladies. It is entirely possible to set dates with multiple girls, but they might meet each other and become jealous. Girls also don't take it lightly if you don't appear on a date. Finally, at the protagonist's next birthday, the most impressed girl will agree to have sex with him. The sex scenes are explicit, but rather few.
Ok, another generic dating sim. Moving on. Actually, not. It's the first work of Elf's subsidiary Silky's that's not blocked by me as eroge, so maybe I should give it a second look. First of all, character design is on par with Elf, very good. The layout of calendar is new. Random dates are picked rather that going day by day 365 days in a row. Each date is accompanied to something like this day in history and when there aren't famous events, something funny is written. So it's the first attempt to try on Tokimeki Memorial hat. Not entirely bad attempt, but game is minor with much lower production values.
In File, the player takes the role of young man named Pat, who is working for a powerful state security organization in an unspecified English-speaking country. His boss, a mysterious high-ranked agent named Cropp, tells him about a strictly classified project under the codename IBIS, which was intended as a counter-terror measure. Four young women have been apprehended under suspicious circumstances (amnesia following an accident, proximity to weapon research facility, etc.). Pat's task is to interrogate those women and to find out the truth about their activities.
Hero tries to use psychology and orthodox methods of interrogation, but heroines lock up in themselves, then he adopts the... ehm... lest orthodox method applied by his colleague and it shows surprising results and allows the girls to open their hearts to him. The whole interrogation process looks very truthfully and we get to know the girls very well through it and in that way it's a very unusual and well thought game.