There aren't masterpieces this month, but among more traditional visual novels

Trouble Chaser Dai 4 Wa - Saishuukai definitely stands out, it's also the most interesting episode in the series being the final one.
Teacher instructs the class that at summer vacation textbooks are prohibited and only erotic journals are ok to read. And then he visits students at various locations to check if they follow instructions properly.
Game is made like a parody, but things go ecchi very fast.
Manami sex life with her partner has become dull, but everything changes with meeting a swinger couple at dancing lessons course.
The most weird thing in the game is that Manami whose name is in the title does not have much action during the game after the opening sequence. The focus is on her partner and different swinger club wives.
In the final episode Daisuke gets kidnapped and it's revealed why he's been hunted for this whole time.
All the mysteries get uncovered and we get to look at villain point of view. There's of course a grand battle involved. Since 3rd episode of the game is a lost piece we also meet some new girl pilot for the first time here.
Majo-gari means "witch-hunt"; indeed, that is the only thing the protagonist of the game, a young priest living in an unspecified European-like town, thinks about. According to his own words, he believes neither in God nor in the devil; his life is dedicated to one horrifying passion: torturing innocent women...
There is an English review.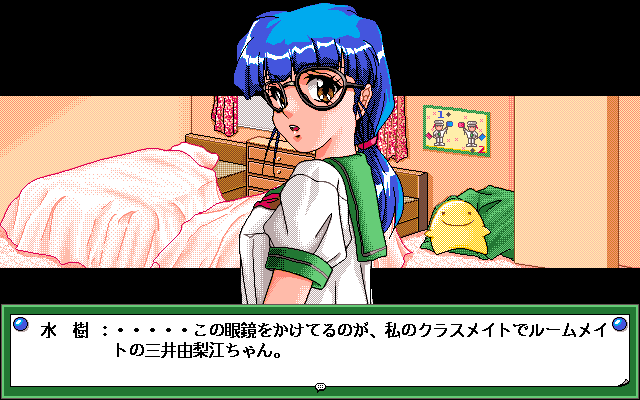 A fighting girl transfers to a girls school. Rules and student council are very strict there. After the girl refuses to dress normally and give away her gloves and kneel-pads the student council kidnaps her roommate.
There are several endings with some being bad ones. The aim is to go around the school, trigger events and beat enemies which leads to les scenes. The overall playtime and the number of CG are small.
The third scenario of Immoral Study describes yet another somewhat unusual teaching experience in the life of Mr. Hitosuji, a young and handsome private tutor. This time, the victim... err... pupil is Asakura Manami, a shy, quiet girl who lives together with her mother. Hitosuji is supposed to make Manami a better student - but instead he chooses to participate in S&M relationship between mother and daughter...
Game is localized and has impressions in English.
The Paradise Heights apartment has changed after half of your uncle's company got liquidated. After the money went, so did some of the tenants. Now Keigo Nakadai (You) works for a toy making company (but still stays at Paradise Heights).
Rumor has it that a competiting company is stealing your brilliant ideas...and the source of the leak is someone with high rank in your company! Fortunately, the new tenants also work at the company as you join forces with them to find out who is conducting industrial espionage behind your back...as well as some entertainment on the side...
There are English reviews.
Gady is a black magician and a skillful martial artist who travels around with his personal fairy Leena. Gady is more interested in sexy girls than in anything else, and Leena calls him "the pervert of the century". One day the two of them find a girl in the woods who begs for help. After Gady agrees to help her, she robs all his money and disappears. Before long Gady and Leena meet a sword master girl named Sephina, who explains that her sister started acting strangely after finding a mysterious sword. This is where Gady's adventure begins.
One of the most hated VN creators Giga makes it appearance on the visual novel scene! But they are praised for action game and their first game is actually an action, or rather a platformer. There's a good English review for this game.
Charade describes the daily high-school routine of a girl named Kazumi. The game proceeds from one school day to another, putting Kazumi in the same situations, facing the same choices. Those choices, as well as random events and meetings with other characters, schoolmates and teachers (only female), change Kazumi's viewpoints as well as relationships with the other girls.
Yuri school ADV. The weirdness of this game is that you set the setting yourself, like this girl will be in the theater and arts clubs and we'll start to pay her attention. And at any time in the morning we can choose - forget it all and get a new setting. Characters aren't cute enough to empathize as well. Game is fully voiced, but making a setting yourself and participating in constant loops just in hope to find an action that would lead to some branching is not the most exciting occupation if you're expecting a story to be told.
Hero has finally confessed and made love to his childhood friend Ai. But as he wakes up in unfamiliar place, he can't find Ai anywhere. He begins his search.
Hero needs to travel through the time by having sex with school nurse and find traces of Ai in different time segments. There are multiple endings depending on whether he chooses some local girl or keep on his search. There are a lot of selections and branches in addiction to already confusing time travel. It's an experimental work with a lot of edges, oh well, and it's not hookable.
Tetsuya is a rather ordinary Japanese teenager, who prefers hanging out with his sweetheart Rika than going to school. His passion are 3D video games. The newest game machine which allows the player to completely submerge into the virtual world, modeled according to his desires, has captured his heart. But one thing is strange: lately, Tetsuya keeps seeing himself as a killer and rapist. Dreams begin to haunt him. Is this just a side-effect of the game, or does he have a dark side he knows nothing about? Or maybe the game took him to another world, which will from now on become part of his life?..
Quite an unusual mix of genres and with animated scenes on top of that. The first work of the company we all know as Jellyfish for being the only ardent adept of fully animated eroge. A merry game, but not hookable and rather short.