There are no masterpieces this month. I would not like to nominate bakage a winner and I have a bad aftertaste from Start Trap and Shizuku, so VN of January 1996 is
Ryuuki Denshou Dragoon
The content of the game can be easily deduced from its title ("Kinbaku Jinmon Densetsu" means the legend of bondage interrogation). The game contains three "episodes", unrelated to each other story-wise. The first one is set in medieval times and tells about the adventures of two female treasure hunters in an ancient tomb; the second begins with two young girls being kidnapped by a mysterious secret society; the third deals with three school girls being assaulted by a thief.
Ero-centered omnibus collection with bondage as theme.
Five adults return to the elementary school they attended as children only to find that it has been closed up. They trespass into the closed-down building in order to dig up a time capsule they had buried at its courtyard. However, this turns out to be a mistake as bizarre monsters are waiting inside. There are five scenarios available, each one telling a different character's story, but only the protagonist's story is initially available.
It's actually close to a "sound novel", but it was released for ps1 so the volume is bigger than usual. There are couple European languages articles that show the glimpse of this weird weird horror game.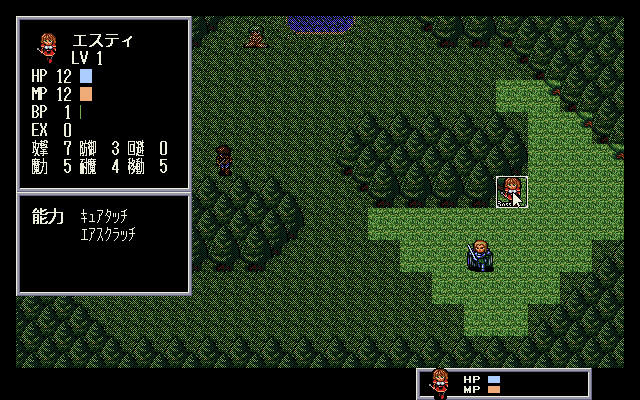 The town of Jester is located near a spring, which is used both by humans from the town and the beast people from their forest village. For years, the two races co-existed in peace. But one day, somebody sets the Jester tavern on fire. The authorities arrest a young beast girl who happened to be in the town at that time. Outraged by the injustice, a young orphan boy named Kein, who was raised by Tyrone, one of the town knights, convinces him to help the girl escape. But that act draws the ire of the town authorities, and the heroes realize that they have to flee...
Some genre experiment here since it's more tactical than usual SRPG, but also definitely not a full strategy or rpg.
Four girls pass the casting to work in a Western mansion. You choose one of the girls and watch the forecoming events from her point of view.
We know it well that even at the time of Cal 3 the staff of Birdy Soft left the company and the director had to hastily finish it himself. And Snow Memory comes years after that as an attempt to play on the brand name. Game's more than average with lots of fanservice and unnatural looking art.
Gods created humans in a paradise-like world. But as time passed they started to hate each other and fight among themselves. Gods sent a blue start that turned into a blue dragon on the ground. For three days and nights the dragon was burning out everything with a cleansing fire. As the flames disappeared, a huge lake was born. Dragon entered the lake with the words "I shall raise again when foolish struggle arises anew". However, as time passed, this dreadful event erased little by little from human memory.
North-East frontier, Northon. Young soldier Cedy meets a mysterious girl Miu and decides to help her get to her hometown on the other side of the world.
At the same time stripping the barriers of time Gods make their move again...
It's a SRPG with only event battles. First part is particularly difficult with the constant demand of restoration magic. Dangerous events happen one by one and we constantly need to escape so pace is good. In the second part the party gets scattered and our primary goal is to find Miu... but we kinda only find other party members and as the war with the empire breaks out Miu gets totally abandoned. Another inconsistency is that the empire villain minister after defeat jumps out with the cries "I've actually come from the future and I've half of my body mechanically modified!" and it was a pure magic fantasy world this far. Another irritating aspect is the inventory menu as first it's needed to pick an item from the full list of garments and then try to apply it to a character only to find out that it won't suit him. So it's a good game with a nice epic story, but some elements of it leave a sour aftertaste.
When one of his classmates suddenly goes mad in the middle of the class, the protagonists uncle, one of the teachers in the school asks him to investigate this matter after school. He starts the investigation with the help of one of the girls from his class, an investigation that will lead them to many horrors...
With my review there are three English reviews.
A space ship was sent to the planet Neptune, to investigate strange disturbances spotted on the planet's surface. Some time later, the nearest space station picked up a SOS signal from the ship. An agent named Takuya, in command of an elite team of female fighters, is sent to Neptune. But their ship crashes, and Takuya must fight for his life and the lives of the girls, which are threatened by Neptune's fearsome monsters.
Alternative version of ancient Cream Lemon - Start Trap back in 1986. Game's short hardly reaching 2 hours. There are two routes, but routes are mainly made to distinguish between H events. The number of endings is 5, there is an ending for each of two girls and some neutral ones. So there's hardly a story, but at least it has the craziness of 80s games and beautiful CG.
You play the character Shinji Nakayama a high school student who has a bad reputation of cheating on his girlfriend, Michiyo Sakagami.
The story starts when your "habit" is eventually found out (again) by your girlfriend, of which you start to fight and end up breaking up. In the middle of your 'sobbing', a girl pops up out of nowhere in your room. It appears she's from the future, with personal reasons that has to do with your present love-life situation. After that, the story is in your hands...
Game is localized and has many English reviews.
A collection of three stories.
1.『ONE』is about main character sneaking into the dressing room of cat ear idols.
2.『ミンキーキャット』is an abduction story.
3.『ミッションエイジ』is an RPG game to infiltrate enemy hideout and rescue a girl
Stories differ in styles greatly, but are all short erotic stories that are possible to click through in just 10 minutes.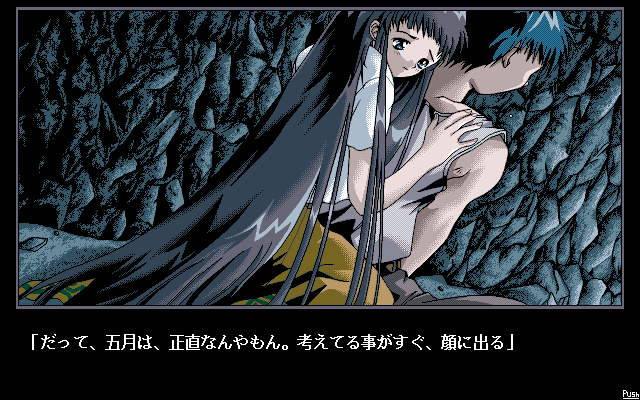 A boy and a girl run away with a mysterious stone and hide in a cave. But pursuers are nearby already.
Game was shipped only for subscription fans and thus is obscure. PC-98 version is not hookable, so I won't be presenting the synopsis. Game is all HCG fest after first couple normal CG.