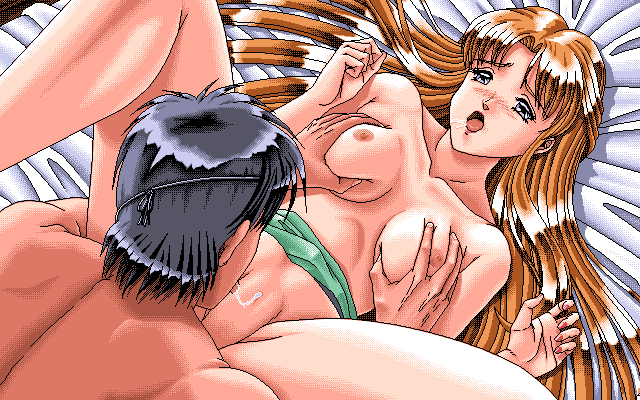 There aren't masterpieces this month. Still I got quite strong impression from

Cybernoid Alpha - I nominate it VN of March 1995.
The heroine of this curiously named title is Choko, the princess of the fictional country Baskin, which is mostly a medieval world with some modern-day anachronisms. She lives in the capital city Robins with her Mom and Dad, namely queen and king. Her curious nature eventually leads her to some interesting acquaintances, including magic users and adventurers, who help her to uncover a threat to her family and country. The princess has to travel through a dangerous forest with her best buddy Meron, in order to protect Baskin from danger.
Meaningless short adventure without anything to stand out here. There are some gags on the way, but they hardly make it worthwhile. Altacia is just much better at doing detective series.
Like its predecessors in the series, IF 3 contains three scenarios, which are unrelated to each other story-wise and can be played directly from the main menu:
The first episode, sub-titled Will for Suicide, is indeed about that: a person who tries to commit suicide. The scenario can be played in two different ways, from the point of view of either a male or female protagonist. reasons and circumstances of the suicide can also be chosen by the player. The scenario involves supernatural forces that change the fate of the heroes; however, the specific narrative is defined by the player.
This episode is called Like a Magic Woman; the heroine is a beautiful young woman, contemplating about her future career and desire for money; at that moment, she is hit by a truck. Miraculously, she survives the accident, and is granted the magic ability of shape-shifting.
The final episode is entitled Eday & Magy (sic), which are the misspelled names "Eddie" and "Maggie". The setting is a fictional city in the USA called "Autumn City"; it is being governed by the powerful Chief Anderson, enjoying an era of stability and peace. But a criminal organization targets Eddie, a young half-Japanese police officer, and he receives the assignment to bring the villains to justice.
Finally the last game of the series. Multiple stories genre little by little ceases to exist.
Escalation '95 doesn't have a particularly elaborate story: the protagonist is a female student named Naomi, who attends the Catholic St. Azarea high school. At the beginning of the year, new students enter the school, and Naomi's task is to show them around and help them - which she does in a very particular fashion...
A specialized lesbian love work with some disturbing content.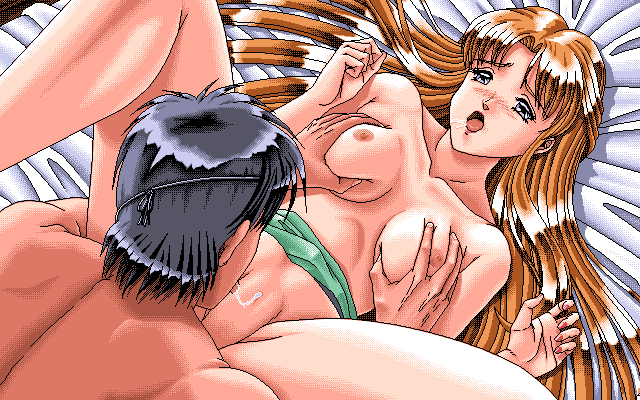 The great war brought the humanity to the brink of extinction turning the burnt towns in lawless zones.
Baum Filled is a mercenary who arrives to such town and takes up a request to rescue woman client's sister.
I love cyberpunk and this game has some great pictures, but it's quite short and ero-centered to be taken seriously.
The protagonist of the first game, Leopard Chateau-Lyon, finds himself wandering in a forest, having no memory of his own past, except his name. He is captured by two female warriors and is brought to their queen. It appears that there are only women in this country; when the hero says he is a man, the queen rejoices, telling him about an ancient legend that prophesied the advent of a creature named man, who will save their country from the ruthless queen of the neighboring land. The hero has to prove himself worthy of his heroic status and to defeat the enemy forces that threaten the country.
There is an English review.
6.
Nana Eiyuu Monogatari
七英雄物語 [950310] Himeya Soft
Fifty-year war between the two great powers is over, and peace comes to the world.
However, the scars of the war are deep and result in operation of multiple bandit and robber bands. One day a whole village gets destroyed by bandits. A small village desperately needs to hire protectors, but there is no money to pay heroes. Are there volunteers to risk their life just for rice?
As you can see, plot fully follows the classic seven samurai story of Akira Kurosawa. The first third of the game there is even just one samurai. Of course, it does not really stop there since it's a long RPG. First there are multiple attacks, then finally main robber moves in vicinity of of village, and our heroes finally have an opportunity to track him down and defeat. But RPG part is decent, so game is quite enjoyable.
The episode reveals the story of Nanase birth and introduces her sister as well as presents the match against Yellow Jackets.
Nanase is the best pitcher in the history and from this episode she becomes the center of attention. Her secret upbringing is revealed and for the setting for final confrontation is prepared.
A student transfers in a formerly girls school only to find strange rules governing there.
An ero-centered work with cute drawing, but very nauseating mechanics of first choosing the icon of action and then point-and-clicking everything in hope to trigger some advancement.
Teacher trains three high school student girls into SM sex slaves.
This is the actual originator of bondage museum genre. It was mostly notable for voice support and time required to install, but the content was rather generic without providing much uniqueness.
In spring 1995 a new conspiracy started to unfold. Manami sets on a course to reveal it while searching for cute girls in the meantime.
The prequel has a good English review and by that alone it's possible to guess the scale of madness in this work. I did not get far in this bakage since it stopped making sense very soon.
11.
S.A. 3
S.A. 3 [950323] Exst
A collection of two short erotic stories.
Scenario 1 is about 16-year old girlfriend Yuka-chan visit. Main character decides that it's high time for intimate relations between them, so he needs to balance part-time jobs and dates with Yuka-chan this summer to afford a romantic trip and finally get close with the girl.
Scenario 2 is about main character having erotic dreams about three girls - his classmate, cash register girl and a passer-by student. Delusions become more and more violent ending up with the use of tentacles. In the end protagonists surprisingly finds himself in jail.
Just like in prequels things turn to H very fast, but Yuka is cute as ever.
The story is about teenagers, high school students. It's divided in two scenarios.
In scenario 1 "Depression Of Ai" the main figure is Ayumi, a les girl. She wants to get a cute pet girl, but it's difficult because most girls refrain from becoming a les. One day she gets a love letter from a junior girl Ai. Ayumi shouts with joy for that, though she doesn't know what kind of girl Ai is. Ayumi imagines that Ai will be cute and naïve. How will the following story goes? It puts on comic touch.
In scenario 2 "Last Party" three figures enter the story. Megumi is a girl who has many H friends. Takusi is one of them. One day Megumi invites Takusi to the last party and he agrees. He asks her about the party but she doesn't let him know what kind of party it'll be. He imagines one of group H with all her friends. At last the party day comes. His guess proves to be false. Megumi introduces just one junior girl, Kana, to him. What purpose does Megumi has? Why is the party the last?
A specialized H-centered yuri work. At the very least there aren't boring parts included.
Heroine is a new transfer student. Player needs to lead her through the daily routine situations with an aim of losing virginity.
A kusoge in its purest form. You need to constantly click to choose between two stupidest routine activities. There are multiple windows and those tend to hide behind each other and to load for quite a long time. Game's also ridiculously long for this kind of torture gameplay.
While attending the funeral of a father his hasn't seen in 10 years, our guy found out about his father's job of SM painter, but actually a SM trainer and Will of one billion yen, now half to his assistant and half to an orphanage. If he can become a SM trainer in one month, assistant will be judge, then he can get the whole one billion yen. Well, how well he can train three girls will have different outcomes.
A famous erotic raising SIM with lots of disturbing content. Not to my liking at all though.
While on the way home from work a mysterious woman begs hero to let her in the car and help her escape from the pursuers. It's up to hero what happens next.
A very obscure work. All I know is that there are a lot of bad endings and no walkthrough to try and get to the good one.