A meteorite hit the Earth in the past leaving pieces of jewel - source of great power.
Nine years ago Enomoto-sensei who helped a mysterious organization study the jewels died leaving the secret of the jewels in the hands of his daughter Koriko.
This days Koriko returns from her study trip to America to find proper girl candidates to master the power of this dangerous source of power - risky jewels. Three young girls will need to use its power for transformation if they want to defend the world from the mysterious organization.
I actually found the game to be very entertaining, that's why I saw it to the end. Battles are done in a simplistic, yet fascinating way as well. Girls are beautiful and transformation scenes inspiring. But what bugs me is that the game ends abruptly without defeating the main baddie. I tried to check Japanese reviews and only found the same outcome. So the ending disappoints, but overall I got only good impressions from the game.
Daiskuke was playing video games when a spacecraft landed on his house demolishing half of it. A pretty girl came out of the ship saying that she came from the future to protect Daisuke who has an important role to play from time criminals.
Somehow I got a liking to these old multiple volume short games like Houma Hunter and Pretty League. Those are watched like anime episodes due to fast pace, short length and frequent use of animation. I'll make sure I watch these series to the end!
3.
Dennou Mahjong Tsuushin Tacet
電脳麻雀通信タチェット [941202] Manbou Goya
Main character gets membership to a special mahjong club. There are many skilled girl players here to challenge.
There is not much text after the intro, so not really sure if it belongs here, but let it be.
Sayako was hugging a wet kitten in the rain asking for help and hero took the kitten to the doctor. That was the start of their friendship. Today is Sayako's birthday - hero overslept and rushes to her place.
Game Technopolis games are always weird and obscure. This game has relation to very short earlier Technopolis game Dennou Tenshi. And looks like noone cares since there's no reviews. And FM Towns was not really a mass product, so its exclusives usually had a tough time. Which is sad, because it's the last work of Game Technopolis and it seems to be the first human-like one.
Seth is very indecisive with women. But as the quest for searching the proper groom for the princess of the kingdom is announced, Seth makes his move. The condition is clearing the training dungeon created by the court magician.
Year 1994 does not have as many RPGs as 1990 or 1991, but those are of highest quality. So is this game, real masterpiece, but completely forgotten. The game starts very lightly as a comedy but with experience and story progression it gets heavily serious. Leveling up is well synchronized with the story events, so you see Seth to grow stronger just at the right moment and it really looks like lvl up affects the character of Seth each time - so there is great pleasure in watching Seth grow. He's not a hero, but he has strong motivation (princess promised to kiss 1000th adventurer to go to this dungeon and it was Seth) and he works hard every day. One nice feature was that the equipment was of multiple sizes like S, M, L and according to the kind of food taken in the shape of body was changing - in other words it was easy to find yourself not fitting in your favorite suit of armor, so in a way it was also a diet RPG. Game's not perfect - it's more complex than traditional RPGs so might not suit total newbies and it requires much tolerance to move step by step to the aim. With great story and character design, this game is a real treat for RPG lovers.
Kōji, a Japanese high school student, experiences strange, recurrent life-like dreams. He finds himself in a space station inhabited by beautiful young women. As he tries to explore the dream realm he wakes up. His teacher, intrigued by his account of the bizarre adventure, urges him to travel back to the space station in his dream and report his discoveries to her. Eventually Kōji realizes that his dream and reality are tightly connected, and finds himself compelled to avert a grave danger.
I have a full review prepared.
Ayayo's Dive Aflame is the fifth entry in the Hacchake Ayayo-san series. Ayayo, Tomoko, and two other female friends travel on a spaceship to another planet. However, they are abducted by an alien race ruled by a king with bizarre sexual preferences. The remainder of the plot is dedicated to exotic sexual scenes between the girls and the aliens.
The last work in Ayayo series, but not because Ayayo conquered the whole universe and has nowhere else to go, but because of company financial and managerial struggle. It's a bakage this time, so it tries to include absurd humor to already absurdist H scenes.
You've been in love with your old childhood friend Hazuki ever since you can remember. You've become a couple and all seems perfect...except that she is the daughter of the person you've been studying swordsmanship under. And the fact that you have been stuck at Level 4 for the longest time makes winning her hand a bit out of your reach...
Then comes the Toushin tournament. A fighting tourney that happens every year, the best of fighters enter to win the coveted Toushin title (Toushin literally means God of Battle). Each contestant must come in with a female partner and if the contestant loses the battle, their partner becomes the property of the winner for the rest of the day, free to do whatever he or she wishes to do to them.
Hazuki, after getting the promise from her father to allow her marriage to you if she goes as the partner of the strongest warrior of all his pupils, she heads out to the Tournament...but she in fact agreed to a promise waiting to the broken. Hazuki's father, determined to have a strong warrior carry on the dojo, wants only the winner of the tournament to marry her daughter...leaving you with only one option: To win the tournament.
As you fight, a number of mysteries arise. What is the reason the Toushin Tournament is held every year? Why did a person tell you to not win the tournament? Why is it that none of the previous winners ever leave the city?
Game's localized and there is quite much information in English, but the fact that there is rape after defeat makes me only smirk grimly. Of course it's Alice Soft. At least there is 3DS version now where you can only date with the defeated girls.
Tachioki Izumi holds a detective office with his childhood friend as his assistant. They get an unusual request that will shed light on the mystery of the dragon tribe descendant residence.
No reviews found, but story actually looks interesting, especially adding the fact that there are girls of mixed animal breed in this world. Or maybe not and the whole introduction is a farce.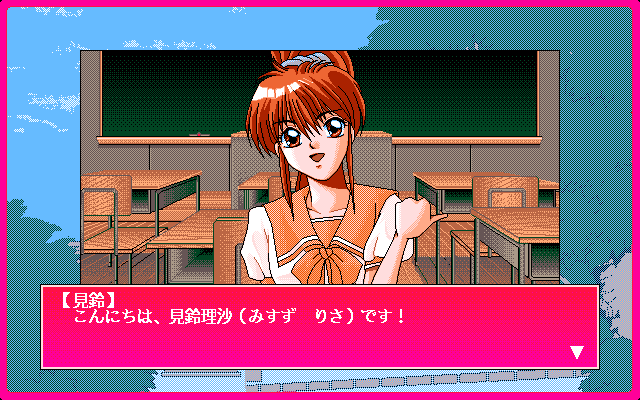 Today is the exam day of a first class Tokyo academy where Masahiro transferred just recently. The exam is finally over and it's time to seek adventures in the academy.
Ero-centered work with spontaneous H events.
In 1999, the Third World War has devastated most of the countries on the Earth. The one that emerged stronger than before was Japan. It became the world's undisputed leader in technology. In the beginning of the 21st century, a company named Nexus began developing a new technology that would eventually lead to production of cyborgs. Nexus soon became the world's most powerful corporation. By then, cyborgs broke loose and caused violent incidents everywhere. A special unit called "Hunter" was deployed to combat them. But Nexus wouldn't stop with their experiments. In 2014, their newest project began, called "Halleluja"...
Game's just very weird plot-wise and system-wise. Most of the time we just move to next squared and thus trigger new fights that have strange mechanics. At least game offers a choice of battle difficulty. Spontaneous H scenes hit the leftover interest out of me.
The Japanese women professional baseball league (known as JPL) announces the start of the season. Juniro is a coach of Pink Angels team and their first game is against Blue Dolphins. On the way to the stadium a wild cat jumps before the bus causing the bus to fall down the chasm. Will they get out in time for the game?
This game is really cheerful and beautiful. I was really afraid of the match part, but that's decided just by the roulette (and probably outcome is scripted ahead), so it totally plays like a normal VN. Girls are very pretty have strong personalities. Game's over in just half an hour, but there are more episodes ahead!
Goice contains three episodes, which tell three separate stories, but share the same villains: human-looking aliens under the command of the insane female captain Storm, and an army of mechanical dolls they use to kidnap and rape young girls from the Earth.
The first episode focuses on two girls, Harue and Kyoko, who survive a car crash caused by the appearance of a giant foll that attacks the city in a Godzilla fashion, only to be captured by an army of smaller once, brought to Strom's space ship, and raped in various ways.
The second episode focuses on three very young high school girls, who hear a mysterious voice on the street and run to seek help by a classmate, but are sexually assaulted by the horny alien dolls.
The heroes of the third episode are two young martial artists, the boy Kenji and the girl Kaede; Kaede is kidnapped and raped by Strom and her hermaphrodite subordinate, and Kenji is trying to rescue her.
Story is quite entertaining with some humor elements, but it remains mostly an animated H game. Compared to Viper series here is less animation and more interactivity, so the pace is worse. But overall a nice forgotten H game.
14.
Curse
カース [941216] Queen Soft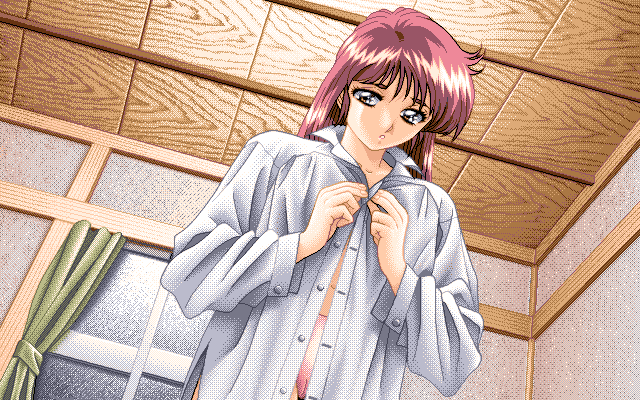 Your university female friend is behaving strange. You and your female buddy, both psychology students, set out to find what's happening.
No Japanese reviews found. And I did not get to the curse part to elaborate.
Protagonist wanders the Christmas night town without money and in desperation till a flier of Banana Club flies in his face. He reaches the written address and decides to play by the rules of the club.
There are three cosplayer girls in the club, but the development actually depends on the answers to the questions filled at the beginning of the game. So there is a lot of repeat-ability. The happy ending is reached upon lifting the darkness off each heroine's heart, so it's not necessarily an ero-oriented work. Quite an unusual work.
The mystery of Nooch enters its final phase. Umechiyo and his sweetheart, the genius girl Piliru from the fictional country Paru, are relaxing on the beach when news of another conspiracy surface. The remnants of the Gilbert organization are not willing to give up, and are seeking for a powerful ancient Egyptian artifact. The two heroes must unveil the mystery before their antagonists do.
Game's the brilliant finish of the series. Tempo goes much faster, unnecessary bruteforce commands are eliminated, saving everywhere is allowed. And even if you messed up, you can go back in time with Heaven's voice feature. Almost in every chapter there's now a maze and top town view is used to navigate. Game shines in every aspect and now several more charming girls are introduced and there are H-scenes with them... since Piliru has always been too clever for that. Game starts in Hawaii, then moves to Egypt and then to even more beautiful places, so it leaves a very good impression as a beautiful adventure game.
The sequel to Sei Shōjo Sentai Lakers directly continues the story from the previous game. Akira and his team of school girls with supernatural powers have repelled Galvan's forces and protected the Laker Crystals. However, a new adversary named Rayott appears on the stage. Obtaining his power from Leticia, the former commander of the Gadram Empire, Rayott intends to use the power of the crystals in order to invade Earth.
Since systems is identical to prequel and story is direct continuation, can't really add anything here.
"True Heart" is set in a medieval fantasy country Riku, and the player controls the young prince Gerard, the only heir to the throne. According to the country's tradition, every prince has to undergo a series of trials when he turns seventeen, to make sure that he would be a responsible ruler. However, our young hero is much more interested in other kind of "trials", those involving himself and members of the opposite sex. Surrounded by young and pretty girls of different social backgrounds and personality types, the prince has to find out which one holds the key to his heart... and not just his other body parts.
There is not enough information to blame it as eroge since official synopsis is less provoking than that of Mobygames, but at the same time there's neither an interesting protagonist, nor an epic story like there was in Demon City, so no incentive to check it out, actually. Game takes only 4 game days and starts right with 2nd day. It looks as if game tries to confuse the reader right off the bat. Introduction scenes are showing the active king 18 years earlier at his trial and coronation time. Then this starting out from the 2nd day persistently implies there is an important event that happened on day 1, but it's not revealed. The king's trial is actually very simple - to hide one's identity and spend several days among the common folk trying to understand their hearts. Story also involves magic and secret treasure that's only to be discovered in the later part. Then there's mysterious amethyst stone that gets affinity for the prince and... it's even possible to try and marry it. So overall it looks like a minor game with quite many H-scenes and some confusion elements dropped in.
Naoto Matsumoto is a young man who suffers from a peculiar memory loss: he does not remember his life before he was fourteen. Apparently both his parents died, and he was taken in by another family. On one rainy day, during a trip through the countryside, Naoto's car reaches a dead end on the road, and he and his stepsister are invited by a maid to spend the night in a large secluded mansion. Naoto witnesses increasingly strange and violent events and begins to recollect his lost memories.
Seven women in mysterious mansion - quite a usual setting. But what makes this game special is hero's memory loss, very enigmatic characters and horror atmosphere. You get to discover their secrets one by one and recover parts of your memories. Branching is difficult and there are multiple endings, so satisfaction level is high if you manage to clear all the routes. It's a masterpiece game and only the huge number of masterpieces in 1994 prevented it from becoming known widely. It's not a game to sweep through fast, after all.
20.
Rinkan Gakkou
林間学校 [941220] Foster
1
Tomoki Tsugawa is a somewhat effeminate-looking male college student aspiring to become a teacher. One day he meets a former schoolmate who is working as a teacher in a girls high school. He agrees to let Tomoki participate in the school's summer camp, under the condition that he wears woman's clothes and passes as a girl.
Trap protagonist is a rare feature, but I don't think it bears much meaning here. But the real treat to the eye is CG. I don't like ero-centered works, but I'm absolutely sure that Foster reached the peak of pc-98 art both in character design and CG detail. But one version of this particular game in circulation has CG corrupted and I seriously recorded for 40 minutes just text with rare inclusion of partial heroines sprites. As far as I see, Mobygames article used the corrupted version. My video intro gives a glimpse of a normal version and it's beautiful. Plot is not too complicated as you can guess, but I liked that the protagonist was not proactive.
A certain girl's high school has attracted the attention of the authorities: girls are disappearing, and there are rumors of strange cult-like activities going on in the school. Secret service sends a female agent (codename "Akiko") to the high school. Posing as an English teacher, Akiko must unravel the mystery - which she eventually does, though not quite the way one would expect from a special agent...
The synopsis is almost identical to the previous Akiko game. The only difference is that in old Akiko we got to know she was an agent quite late in the game. Anyway, an ero-centered work, no surprises here.
An university student is hired by a wealth family(mother and two daughters) to tutor the younger daughter. Living at their house, he soon has relationships with the whole family, daughters' friend, and the two neighbors.
An ero-centric work with 7 heroines total. The main features of the work is cute character design and only occasional choices selection formula.
Kyōsuke Takamizawa is a twenty-three year old man who has been having some trouble finding a job. His last teaching experience wasn't particularly successful, and now he is out for better opportunities in the city. However, his real focus is on his charming female acquaintances - from high-school students to waitresses, neighbors, and other women populating the city.
Concept is akin to Classmate and there are 24 heroines available over a long period of half a year. But the game does not have special charms it takes just too much time for each capture nowadays to matter.
The storyline concerns a girl who has terrible memories of her friends being attacked and killed by monsters. One day her life gets worse when a gang of randy fellow students attack her. Fortunately the gang is fought off but by a demon tail which unexpectedly sprouts from an unmentionable place on the girl's body. Understandably distressed by this new appendage she seeks help from her new pals who take her to visit a young woman priest hoping she will be able to rid her of this unusual problem. As you may have guessed things get worse before they get better as the group are under repeated attack from sex-crazed, multi-tentacled nasties.
There is an English review.
The events of the game are set in the future. The Galactic Police discovers that a scientist named Cronus has conducted genetic experiments on human beings. The police chief rescues three little girls, each one of whom bears the traces of these experiments. Fast-forward fifteen years: the three young women - Saki, Lilis, and Ariel - now work for the Galactic Police, determined to find out the truth about their origins and the nature of experiments. They are sent on three dangerous missions - missions they might not survive...
There's a very good English review so it should be sufficient.
26.
Rinshitsu no Chikubi
隣室の乳首 [94] Toukyou Club
Main character sits in the attic and remembers a short story of Edogawa Ranpo "The Walker Behind the Ceiling" about a man who mastered the pleasure art on the residents of the house. In such mysterious atmosphere protagonist starts to understand hero of the book. A doorbell suddenly rings, and neighbor girl Keiko stands at the door. Great timing, and great opportunity.
H-centered doujin game with slightly better text than usual, but that's it.
27.
Para PARA Paradise
ぱらPARAパラダイス [94] Family Soft
A high school raising sim game that takes place from entrance to graduation.
It's quite a weird mix since there are battles and fantasy elements later on. There are even special techniques used in battles.
28.
Bomber Quest
ボンバークエスト [94] Mink 1
A young man named Shounosuke sees a strange dream: a voice talks about mankind and its sins, and a beautiful girl begs him to save her... The next day, when he goes to school, an earthquake occurs, and he is miraculously taken into another world, where he meets the girl from his dreams. She says that girls in different dimensions are in grave danger, and Shounosuke has to save them...
It's such a strange mix of puzzle, rpg and strategy that I never cared to touch it.