Gao Gao! 3rd ~Wild Force~ is the only masterpiece of the month.
Hero dies in the introduction. However, if he is loved by four women in four days, he has a chance to resurrect.
One of the most difficult pc-98 games to clear. It became legendary for that. System is point and click, but game is very punishing on clicking wrong objects and on clicking some objects excessive number of times. Like, to make girl feel good, you need to click like three times on this part, no more, no less. Sometimes there was no feedback until you click some object for like 5 times. Sometimes you need to click on the area of just a few pixels and not next to it. It's a kusoge, but it spawned lots of flame and competition. Old games are sometimes just EVIL.
Nikki, the hero of the game, is a cybernetically enhanced young man from the future. His "home time" is the beginning of 22th century; his home town is the international megalopolis Shinjuku City, part of the old Tokyo. Humanity prospers, living in pleasure, relying on incredible scientific achievements. One of them is the time machine. Nikki finds out than four young, attractive school girls from 1994 got involved into some sort of trouble. Using his time machine, Nikki ventures into the past, determined to save them... and expecting a lot of... err... gratitude in return!
Ange games... they are weird, clumsy, but unique in stories and heartwarming. So you need to evade the pursuit of time-travel regulation bureau and find diaries in girls rooms. Searching in the rooms is done in point and click manner and is very frustrating with systems. When entries leading to bad future are found you've got three different options of changing them - and they lead to different endings. So not a great game, but somehow it feels nice.
3.
Jikuu Sousakan Pretty Angel Misty Flash
時空捜査官プリティーエンジェル ミスティフラッシュ [941014] Peppermint Kids
A group of patroller trainees from the time travel academy are despatched to the 1990s in order to hunt renegade time travellers who try to change history.
The story segments end very fast, and there are only countless card battles ahead.
There's a bit of a comedy, but overall can hardly be recommended.
CARON (heroine), a legendary swordsman's posterity, challenges the battle with the cruel monster GEBALZO of the new empire SHADOW, in order to save RUBYNA (the princess of RALL) confined.
This game is based on the adult anime in "Superdimension SF Legend Rall" (1984)
As for the animation of "Superdimension SF Legend Rall", the part 1 and the part 2(="Lamu Ru Strikes Back" 1986) were made.
This game was named "RALL 3" being conscious of those anime series.
However, the contents of this game are the remakes of the first anime (part 1).
"kakusei-hen" of a subtitle means "awakening" in Japanese.
And the ending of this game had the preliminary announcement of a sequel ("betsuri-hen").
However, the sequel is not put on the market until it continues up to now.
There is a Polish and a Russian review of this game.
A monster "No. 36" landed in Tokyo and heads for America. A preventive nuclear strike is planned so Japan needs to get rid of the monster as soon as possible.
Three friends take up different approaches to deal with this situation.
There are three stories linked with the same preamble. Humor, eroticism, love and friends reunion - it's all thrown in the pot together to get get a fascinating omnibus work. What I especially appreciated here is that the story looks more like contemporary novelge with big backgrounds and lots of text with occasional choices selection.
The second game in the Custom Mate series once again allows the hero to create the girl of his dreams; this time not magically, but by engaging the services of Custom Corporation, whose operator is nevertheless still the same cute elf who created the girls in the previous game.
Creation, talking and seduction processes are all improved here, but heroines look quite ugly to me and the whole SIM concept is alien to me.
A collection of five stories from everyday life of different girls with the name of Eriko.
All the story are of erotic, mostly yuri content. Creators did not even bother to save the same protagonist for each story - but introduced multiple ones with the same name... The picture improved greatly, but the "charm" of the sad youth story is gone now - it's more like series of normal yuri encounters now.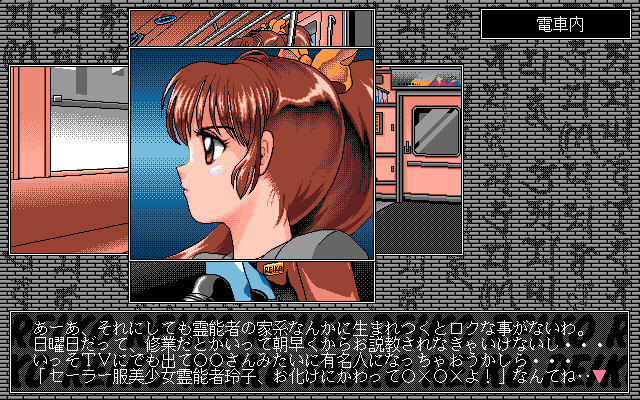 In order to investigate an incident happened at a girl's school the heroine transfers there as a student. Upon arrival she feels being watched and the only student she meets runs away from her in fear...
System is command selection and it's chosen to cover the shortness of the game. There are five H scenes and a fast resolution in the end
Wild Force is set in the same post-apocalyptic world as the previous entry in the GaoGao series. A virus turned most of the Earth's population into mutants, and human beings continued living in artificial cities, separated from the rest of the world. This time, the story is seen from the point of view of the mutants themselves (the previous GaoGao games had human protagonists). These look more like fairy tale creatures (half-cats, winged people, etc.), and continue living on the wild, dangerous Earth, keeping close to their respective animal tribes. The protagonist of the game is a young boy named Wolf, who belongs - you've guessed it - to the wolf tribe. One day, exploring the wilderness, he stumbles upon a strange cave with lurking monsters. Together with a girl from the rabbit tribe and other fantasy creatures, Wolf discovers an advanced civilization, learn of the existence of human beings, and eventually becomes a hero who saves the new world from a grave danger.
A masterpiece level work at last and 4th part even better. These works are the reasons for part 1 and 2 to be tolerated (or skipped - they are perfectly safe to skip). This work stands out as it was the first adventure work to put emphasis on relations within a party and not on story or exploration. Our wolf boy meets bunny girl and many other charming characters and they interact and grow together as persons and partners. Events take place 100 years after part 2 in an evolved world so no real need to know the previous part. Game loses a few points since it still uses command selection formula that's simplified from part 2, but still gives a monotonous feeling. But it excels in every other compartment - sound, visuals, text. Thanks to a strong affection for characters, this work feels unique from all the previous pc-98 games.
5. BA散歩
6.
月夜物語
7. minimum hour
It's not clear how many stories there are this time since there are even more supplementary materials in the game menu, but the gist of the stories remains the same ero-centered as ever.